Giant 150-metre long comic strip to go on show at V&A Dundee site
The 150-metre long strip is being installed at the waterfront construction site of the V&A Museum in Dundee.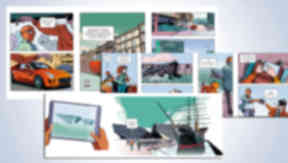 A 150-metre long giant comic strip is being installed at the waterfront construction site of V&A Museum of Design Dundee.
Comic illustrator Will Morris and graphic designer David Mackenzie were commissioned to design the giant comic strip, after being recognised amongst Scotland's most inspirational creative talent.
A shortlist of some of the most exciting emerging Scottish design talent was compiled and the designers asked to submit ideas for the hoardings graphics.
Morris and Mackenzie's response, Adventures in Design tells the story of the everyday relevance of design - how it solves problems, improves lives and makes the world more beautiful and fun.
Featured Scottish designs include the Falkirk Wheel, Harris Tweed and Dundee-based game developer Guerrilla Tea's data-crunching 'Genes in Space' collaboration with Cancer Research UK.
Alongside these stories, some of Dundee's most prestigious innovations also feature – from Keiller's marmalade, Valentine's first picture postcard, Lemmings, Maggie's Dundee and the city's attribute as the first designated UK Unesco City of Design.
Councillor Willie Sawers, depute convener of policy and resources, said: "Dundee has a long and proud history in comics and I think it is fitting to have a design like this at the Waterfront.
"The artwork depicts some of Dundee's greatest achievements from the past, and the V&A Dundee is an important part of our future. I am positive this will be an impressive sight."
Will Morris, the comic illustrator behind the award-winning graphic novel 'The Silver Darlings', said: "We were thrilled to have the chance to tell short stories that illustrate how design can find its inspiration anywhere and in turn inspire wonderful new ideas.
"Comics felt like the perfect way to tell those stories, especially with Dundee's amazing heritage. For someone used to seeing their work on an A4 page it's extraordinary to see it at this massive scale. We hope people enjoy it and get excited for the fantastic new museum to come."
David Mackenzie, a graduate of the University of Dundee's Duncan of Jordanstone College of Art and Design, added: "Having studied here in the city it's wonderful to come back and create this giant artwork designed to involve audiences with V&A Dundee.
"Scaling up from our usual size has been an interesting challenge, but one we've relished. I'm really encouraged that the new design museum has chosen this medium to connect and engage with audiences. We hope that as many people as possible will visit the site to enjoy the comic strip first hand."
Work to install the artwork take place on Wednesday and Thursday with Adventures in Design available for viewing at the V&A Dundee construction site until 2017.