Duke and Duchess shine spotlight on mental health in Dundee visit
The Earl and Countess of Strathearn visited Dundee Rep, The Corner youth centre and the RRS Discovery.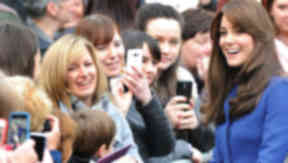 The Duke and Duchess of Cambridge have shown their support for a festival which is challenging preconceived ideas about mental health during a visit to Dundee.
William and Kate, along with Prince Harry, are making the emotional and psychological wellbeing of young people a key focus of their official and charitable work.
The Scottish Mental Health Arts and Film Festival, an annual event held in October, stages everything from music, film and visual art to theatre, dance, and literature events.
The Cambridges met the staff and crew behind theatre show, In Her Shadows, a visual performance that explores a young woman's relationship with her depression, and highlights the stigmas surrounding the illness.
The royal couple met with the team as well as a crowd of well wishers at the Dundee Rep theatre, where the performance will be staged on Friday.
Known as the Earl and Countess of Strathearn when they are in Scotland, William and Kate are making their first visit to Dundee, which has emerged as a key centre of the UK's video gaming industry.
The city is also undergoing a major transformation headed by a £1bn waterfront regeneration project.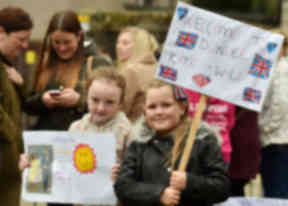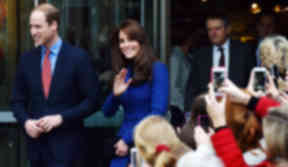 Crowds gathering outside Dundee Rep and the royal couple went on a brief walkabout
Prior to their Dundee visit, William and Kate spent the night at The Old Course Hotel in St Andrews, where they first met more than ten years ago as students.
The Cambridges also visited several organisation which support young people in Dundee.
During one visit the Duke of Cambridge spoke out about the nation's attitude to mental health, saying it was "sad" that "society does not seem to listen enough" to those with problems.
The couple sat down with a group of young people who spoke openly about their battles with mental health issues and their work helping others.
The second engagement of the royal couple's visit took them to The Corner, an institution which runs a drop-in centre for teenagers wanting advice on issues like contraception or exam stress, and peer-led and outreach services.
They were welcomed by a crowd as they entered and began a tour of the centre, which has about 150 new young people visiting every month.
This included volunteer and peer educator Lauren Hudson, 22, who has been coming to the centre since her early teenage years.
Kate asked her what were the main issues she found that young people wanted to talk about, and Ms Hudson told her family issues was often the main one.
They joined an anti-bullying workshop, organised by Scotland's anti-bullying service RespectMe, which included a video around the dangers of social media.
During their discussion William asked whether they thought social media companies did enough to prevent bullying online and he was told they feared that the introduction of a dislike button on Facebook could be a disaster.
But the young people also said that face-to-face bullying was still just as common.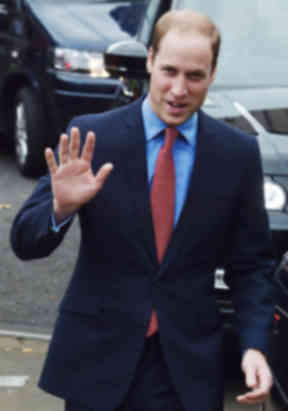 The Duke voiced his concerns over the availability of legal highs
The couple also heard about the dangers of legal highs, with William saying he has helped rescue the victims of legal highs in his role as an air ambulance pilot.
Speaking with members of the Body Matters team, the Prince said: "I don't know why there are legal highs. We have been called out when people are having fits or cardiac arrests after taking them."
Addiction youth worker Alain Saum said she now does outreach work at all nine of the city's high schools because the problem is so widespread.
"It is a big concern in Dundee. People who wouldn't normally do drugs take them because of the word legal," she said.
"And a small packet might contain 50 doses but people take it all at once."
Sexual health nurse Jackie Fitzpatrick said the problem is even more dangerous because the long-term effects of the drugs are not yet known.
She said: "With cocaine or heroin we know what the psychological effects will be."
The Cambridges also visited Captain Scott's ship RRS (Royal Research Ship) Discovery, which was built in Dundee and carried him, and a young Ernest Shackleton, on their first expedition to Antarctica in 1901.
They ended their day at Dundee's Abertay University, celebrating the winners of a UK-wide Bafta game design competition for children and teenagers.