Endangered Scottish wildcat 'caught on camera' in Angus Glens
Experts believe there could be as few as 35 pure-breed Scottish wildcats left in the country.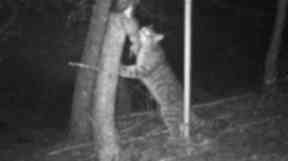 One of the world's most endangered animals may have been caught on camera in the Angus Glens.
Experts say there could be as few as 35 pure-breed Scottish wildcats left, making them rarer than the Siberian tiger.
But one of the elusive felines may have been spotted enjoying a meal on a grouse moor in the Cairngorms National Park.
The Angus Glens were identified last year as one of six priority areas for wildcat conservation in Scotland.
Gamekeeper Bruce Cooper said: "The trail cameras were installed in the new year and I was checking the film for the second time when I saw the cat.
"It came to a bait of rabbit and it looks like the real deal, although that will have to be established now."
The biggest threat to Scotland's wildcat population is interbreeding with escaped domestic cats and a scheme to trap, neuter and vaccinate hybrids has been launched to help the species recover.
Pure-breed wildcats are larger than domestic cats with a distinctive thick, ringed tale with a blunt end.
Experts from Scottish Wildcat Action (SWA) are now examining the footage to decide whether the latest sighting was of a true wildcat.
SWA officer Hebe Carus said: "Reliable identification requires having a variety of different views of the cat and having the time to look for seven defining features.
"Only after analysing the pictures Bruce has sent can I confirm whether the cat displays all the defining features of a genuine Scottish wildcat.
"At the cameras there is also a scented post with Velcro on to try to capture hairs so we can analyse DNA. So far, we have no hairs to analyse, but we hope the cat returns so we get more photos and possibly a hair sample."
Around 300 motion-sensitive cameras are being operated by volunteers across Scotland as part of the Heritage Lottery-backed project.