Queen's cousin Earl of Strathmore dies after cancer battle
Lord Glamis had four sons and two step-daughters and lived on Angus estate.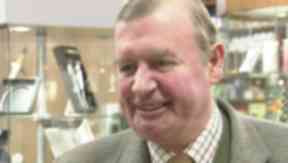 The Earl of Strathmore and Kinghorne, known as Lord Glamis, has died following a long battle with cancer, his family confirmed.
Michael Fergus Bowes Lyon, who is a first cousin once removed of Queen Elizabeth, died in hospital in London on Saturday aged 58.
The former army captain, who had four sons and two step-daughters, was the 18th earl of the historic estate in Angus, where the Queen Mother spent much of her childhood.
In a statement, the Bowes Lyon family said: "It is with great sadness that we announce the death of Michael Fergus Bowes Lyon, 18th Earl of Strathmore and Kinghorne, after a courageous battle with cancer.
"He succeeded his father, Fergus Michael Claude Bowes Lyon, 17th Earl of Strathmore and Kinghorne in 1987.
"Michael was a great-nephew of her late Majesty, Queen Elizabeth, the Queen Mother. He was born on June 7, 1957, and spent his childhood in Humbie, East Lothian, and at Glamis.
"The family settled permanently at Glamis when his father inherited the estate in 1972. He was educated at Eton and Aberdeen University, where he studied land economy.
"He served in the Scots Guards from 1980 to 1984. Following this he worked in London for the stockbroker, Strauss Turnbull, followed by Tarmac.
"He was a government whip in the House of Lords in John Major's Conservative government from 1989-94, serving as deputy chief whip from 1991-94, a role that involved him being Captain of the Yeoman of the Guard."
The family added: "Over the years, Michael made many improvements to the estate at Glamis, he cleared and restored the 19th century Pinetum laid out by his great-great grandfather, the 13th earl.
"He also transformed the walled garden into a wonderful place for visitors, with a huge fountain, a bridge, ponds and an abundance of fruit trees, flowers and shrubs.
"His voluntary roles included being President of the Boys' Brigade, Patron of The Friends of the Bowes Museum Committee and a Deputy Lieutenant for the County of Angus.
"Michael married Isobel Weatherall in 1984 and had three sons, Sam, Jock and Geordie. The marriage was dissolved in 2004.
"Sam succeeds his father as the 19th Earl of Strathmore and Kinghorne.
"He married, secondly, Dr Damaris Stuart-William in 2005.They had a son Toby. The marriage was dissolved in 2008.
"In 2012, he married Karen Baxter and was a loving step-father to her daughters Chloe and Kristen.
"Michael will be greatly missed not only by his family but by those who lived and worked on the estates at Glamis and in County Durham."