Drink-driver plunged car into gorge leaving friend paralysed
Robert Buzalski, 36, downed 30% vodka liqueur before getting behind the wheel of his car.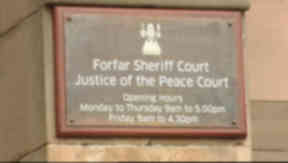 A drink-driver left his friend paralysed from the neck down when he drove off the road and into a gorge.
Robert Buzalski downed 30% vodka liqueur with friends Marcin Kopij, 37, and Krysztof Birula, 35, before getting behind the wheel of a Hyundai i30 hire car on a farm road near Edzell in Angus.
Buzalski, 36, caused the crash while one and a half times over the drink-drive limit during "horrendous" weather conditions, smashing into the bank of a river gorge before plunging down a steep embankment into the riverbed.
Mr Birula was left with horrific injuries in the crash, which witnesses said they were "amazed" to see Buzalski and Mr Kopij walk away from.
Firefighters had to cut Mr Birula free and he was left paralysed and wheelchair-bound for life due to a broken back sustained when the car rolled down the embankment.
He was unable to travel to Forfar Sheriff Court to give evidence and instead a statement taken from him recounting the events was read to the court.
It said: "It was dark, the weather was typical of Scotland, drizzle, rain. Buzalski was driving normally, he did not drive fast.
"Suddenly Marcin Kopij told Buzalski: Watch out, we're being drawn off the road.
"I fell off the seat and I think I hit my head. I said to Buzalski that I could not move an arm or leg. The next thing I remember is waking up in hospital."
Farmer Robert Myles told the jury: "I saw where the car had gone off the road and down a steep embankment into the burn.
"Krysztof was still in the car and was trapped. Robert was very upset and traumatised. I was amazed anyone had walked away from that. I think there was a tree which slowed the car's descent, which must have helped."
Crash investigator Constable Michael Cargill said calculations made during a probe into the crash showed the car was travelling around 29mph when it left the road.
Mr Myles had told the court that 20mph was the "ideal" speed for that part of the road.
Giving evidence in his own defence, Buzalski, who suffered four broken ribs in the crash, said he had been celebrating his forthcoming wedding with his two friends.
Their intention was to drive to the end of the farm road at Dalbog, near Edzell, and then call for a taxi into the village. He said he "felt fine" after drinking the vodka and chose to drive.
Buzalski said: "I think about it every day, it's very hard. I ask myself every evening, why did it have to happen?"
He added: "He (Birula) was a friend, close friends, you could say. Any time I can go and visit him, I try to support him. When I can't go to visit him, I call him."
Summing up the Crown case, fiscal depute Joanne Smith said: "The way he (Buzalski) drove falls far below what would be expected of a careful and competent driver and it would be obvious to a careful and competent driver that driving in that way would be dangerous."
Buzalski, of Sandpiper House, Ruthvenfield Road, Perth, had denied a charge on indictment of causing serious injury to Krysztof Birula by dangerous driving but a jury of eight men and seven women found him guilty following a four-day trial.
The crash took place on August 24, 2013, on a farm road leading from Cornes Cottage to Dalbog Farm near Edzell.
Sheriff Pino di Emidio deferred sentence until April for social work background reports and released Buzalski on bail in the meantime.