Man tied up ex-police officer and abducted woman in armed raid
Nicholas McGurk targeted Alex Wong and a woman at a chip shop days after getting out of jail.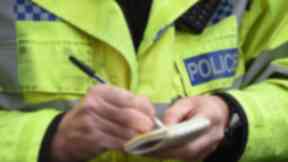 A gunman tied up a former police officer and abducted a woman in an armed raid at a chip shop.
Nicholas McGurk carried out the armed raid just over a week after he had been freed from jail.
Alex Wong and a woman, who cannot be named for legal reasons, were targeted at Brodies fish and chip shop in Coupar Angus, Perthshire in August this year.
The ordeal involved ex-officer Mr Wong being tied up and a woman being forced to go with McGurk in the Mr Wong's Mercedes.
The woman only escaped when McGurk crashed the car before she fainted due to being so petrified. The 32-year-old was later snared by police but insisted the accusations were "lies".
He is now behind bars after pleading guilty to assault, abduction and robbery.
A judge heard how the victims remain badly affected and that the raid had "broken" Mr Wong's retirement plans.
McGurk, of Govanhill, Glasgow, will return to the dock in the New Year. He was back on the streets eight days having earlier been jailed for theft when he carried out his latest raid.
McGurk has been previously been locked up for six years for robbery in 2009. He also has convictions for drugs, violence and having knives.
Mr Wong, who had previously served with the police in Hong Kong, had run the takeaway for 14 years without any hassle.
Around closing time on August 26, Mr Wong and the woman were clearing up when McGurk stormed in.
The High Court in Glasgow heard he had a gun and pointed the weapon at the woman.
Prosecutor Stewart Ronnie said: "He told her to hand over money. Initially she thought it was a joke and called her husband through."
When Mr Wong appeared, McGurk then took out a large blade while screaming for cash.
Mr Ronnie: "He pointed the knife towards Alex Wong's neck and stated: 'If you do anything, I will kill you"."
A scared Mr Wong handed over what money he had on him. McGurk shoved him into the kitchen before tying him to a sink with a telephone cable.
The robber rummaged through Mr Wong's pockets and snatched another £640 as well as the couple's mobile phones.
At one stage, the woman tried to end their ordeal by stating her husband was ill.
Mr Ronnie told the court: "McGurk returned and slapped her on the face telling her to shut up. He squeezed her face while pointing the gun at her."
McGurk then demanded: "Give me your car key - I know you've got a Mercedes."
He insisted he was taking the vehicle and the woman with him. She initially refused to go but when McGurk threatened her with the knife, she got in the car.
Revealing her ordeal, the advocate depute added: "McGurk drove. He pulled her towards him and hit her with his head. She was then slapped in the face."
He claimed they were going to his "house" but he then crashed into a parked van.
The woman meantime noticed two customers from her shop and shouted at them: "Help, phone police."
One of them approached the car, but McGurk claimed: "Everything is fine."
Mr Ronnie told the court: "The woman and McGurk then returned to the shop where she collapsed due to being so terrified. McGurk made off through a side door on foot."
A person heard Mr Wong banging for help leading to police being called.
Mr Wong later identified McGurk. Police were aware he had recently moved to the area.
He was held the next morning, but claimed: "I've just got off a bus from Perth. Basically I never done this."
McGurk went on to insist the allegations were "lies". No weapon was recovered but the home of his half-brother, where McGurk had stayed before the robbery, was searched and a box for an air gun was found.
Mr Ronnie said the ordeal has had "a very big impact" on Mr Wong and the woman.
He said: "Alex Wong states he has been feeling depressed mainly due to having to close his business."
The woman was said to be "struggling" having become "very emotional and nervous".
Mr Ronnie: "In summary, Alex Wong says it has broken his dream of a peaceful retirement at the right time."
Prosecutors have asked for a risk assessment to be carried out on McGurk prior to sentencing.