Vandals 'push over pulpit' during break-in at church
Blackford Parish Church in Auchterarder was broken into over the weekend.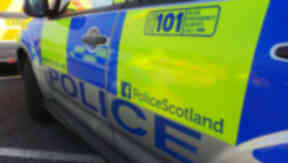 Police are searching for vandals who broke into a 160-year-old church.
Blackford Parish Church's pulpit was reportedly pushed over, communion glasses were smashed and bibles strewn about during the incident at the weekend.
Reverend Matthew Ross, general secretary of Action of Churches Together in Scotland, asked people to "pray for all" at the Auchterarder church.
A Police Scotland spokeswoman said: "We are continuing with enquiries after vandalism to Blackford Parish Church sometimes between 1pm on Saturday and 10.30am on Sunday.
"Anyone with information is asked to contact Police Scotland on 101."