Bronze Age weapons unearthed in 'find of a lifetime'
The 3000-year-old items were excavated at site of new football pitches in Carnoustie.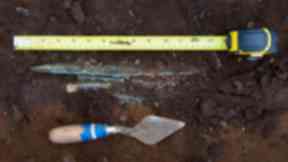 An archaeological "find of a lifetime" has been dug up in Angus, with 3000-year-old weapons among the items found.
A gold-decorated spearhead, a sword and scabbard fittings were found in a pit close to a late Bronze Age settlement which was excavated in Carnoustie.
The site was being dug up to create two new grass football pitches near Carnoustie High School.
Angus Council called in Guard Archaeology to study the findings and, while any metalwork is deemed significant, the finding of gold from the era has been hailed as exceptional with "international significance".
Project officer Alan Hunter Blair said: "The earliest Celtic myths often highlight the reflectivity and brilliance of heroic weapons.
"Gold decoration was probably added to this bronze spearhead to exalt it both through the material's rarity and its visual impact.
"It is one of only a handful of gold decorated bronze spearheads that have been found across Britain and Ireland so this find alone is of international significance."
He added: "The hoard of artefacts, which are around 3000 years old, is the find of a lifetime.
"It is very unusual to recover such artefacts in a modern archaeological excavation, which can reveal so much about the context of its burial."
Planning on the site was approved in 2015 and the items were discovered last August.
Around 1000 archaeological features were discovered including 12 sub-circular houses from the Bronze Age and two halls from the Neolithic period.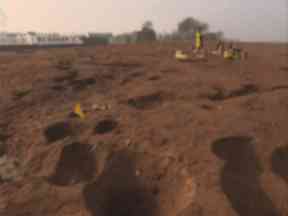 The metalwork was spotted in one pit with the hoard containing the spearhead, sword, and a bronze pin.
Experts say only a handful of such spearheads are known, with one discovered in a farm near Dundee in 1963.
Once the excavation is complete, researchers plan to study the artefacts to find out more about the Bronze Age community that buried them.
Residents and schoolchildren were able to visit the site and view the items with two guided open days.
The items have since been cleaned up and now reside in the archaeology company's base in Govan, Glasgow.
Mr Blair said: "Owing to the fragile nature of these remains when we first discovered them, our team removed the entire pit and the surrounding subsoil which it was cut into as a single 80kg block of soil.
"This was then delivered to our Finds Lab where it was assessed by a specialist Finds Conservator to plan how it could be carefully excavated and the artefacts conserved."
Beth Spence, the project officer who undertook the laboratory excavation of the hoard, said: "Organic evidence like Bronze Age wooden scabbards rarely survive so this just underlines how extraordinary these finds are."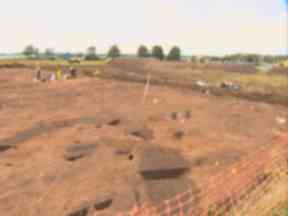 Download: The STV News app is Scotland's favourite and is available for iPhone from the App store and for Android from Google Play. Download it today and continue to enjoy STV News wherever you are.