Bon Scott statues connected as fans set up live link
Locals in the AC/DC frontman's home town of Kirriemuir spoke to Australian counterparts.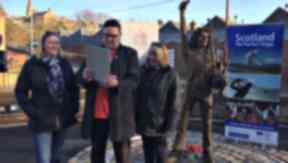 Scottish music fans have set up a live link with Australia to embrace their connection with former AC/DC frontman Bon Scott.
The legendary rocker was born in Kirriemuir, Angus, in 1946 before his family moved Down Under and he joined the band, set up by fellow Scots, in 1974.
Ever since he died in 1980 he has remained in the heart of loyal fans and his legacy has brought about a music festival in his home town.
Last year, a statue of Scott was unveiled at the festival, the second such monument after one was erected in Fremantle where his grave lies.
On Friday, a Facebook live video link was set up by Graham Galloway, one of the brains behind the festival and the campaign for the statue, with his Aussie counterpart Doug Thornecroft.
Mr Galloway explained to STV News: "It's kind of three-fold really, we're looking at potentially twinning Kirriemuir and Fremantle.
"We've got the connection with both statues from where he was born and where his grave is. So there's real interest about 'friendship towning' as they call it there.
"The other thing is we're doing it as a proof of concept on maybe setting up a permanent virtual contact between the two statues which went very well there."
He added: "It would be great if people here could speak to people in Fremantle back and forth.
"And we're announcing that we're being supported by Events Scotland for BonFest this year which happens on April 28-30."
People travel from all over the world for BonFest every April and are now doing so all year around because of the statue's presence.
It is hoped the live link could be made a permanent fixture to allow locals and visitors in both towns to correspond with each other and share their highlights from the rockers' records.
Mr Galloway said: "Technology has come on so much. We've got a very strong 4G connection at the statue here so it could be something as simple as a waterproof tablet in a box.
"A little bit more technology than that but it's got to the stage now where things are much easier than they were a few years ago.
"There's already people coming to this statue who have visited Fremantle and it's happening both ways now."
He added: "We're becoming sites of pilgrimage for AC/DC, they're really passionate for their love of Bon.
"We were always aware there was so much love for Bon and the statue in Fremantle was popular. The same has proven to be true here."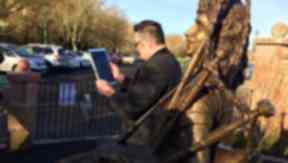 Download: The STV News app is Scotland's favourite and is available for iPhone from the App store and for Android from Google Play. Download it today and continue to enjoy STV News wherever you are.