HIV tests for pupils 'jabbed with diabetes needle'
Police are investigating the incident at lunchtime at a Dundee secondary.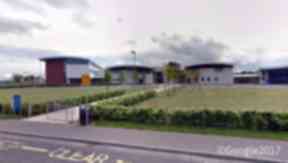 Pupils at a secondary school have undergone tests for HIV after they were pricked with a diabetes needle during lunchtime.
It is believed as many as 11 pupils were involved in the incident at St Paul's Academy in Dundee.
One woman whose daughter was jabbed with the medical instrument told STV News the pupil is being made to undergo a programme of medical treatment as a result.
The mother, who asked not to be named, said: "The children have all had to be tested for HIV and are now undergoing a three month Hepatitis B programme.
"The school didn't inform any parents until after the end of the school day and told us we didn't need to worry.
"Various parents including myself phoned NHS 24, or visited A&E, or phoned public health and police."
She confirmed school staff phoned her over the alleged attack involving a diabetes finger pricking device.
It is understood the lancing device, which is used to draw blood for diabetes blood glucose tests, had been brought to the school by another pupil, before a girl allegedly jabbed several other teenagers with it.
Police Scotland confirmed there is an "ongoing investigation" being carried out after the incident on Thursday afternoon.
A Dundee City Council spokesman said: "It would not be appropriate to comment while a police investigation is ongoing."