Driver ordered to pay UK record £24,500 parking fine
Carly Mackie ignored hundreds of penalty notices in City Quay, Dundee.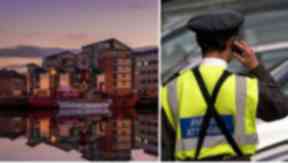 A woman has been ordered to pay a private parking company the UK's largest parking fine after ignoring hundreds of penalty notices.
Carly Mackie, of West Victoria Dock Road in City Quay, Dundee, has been told to pay Vehicle Control Services £24,500 after repeatedly parking in an area reserved for residents at a property rented by her mother and stepfather.
The 28-year-old had been issued with the penalty notices on a near daily basis over a two-year period but claimed they were unenforceable as she was living there at the time.
Mackie wrongly believed she was entitled to park her Mini in front of the family's garage at their Dundee home and would not accept the offer of a parking permit for a space nearby for £40 a month.
After she racked up a £18,500 bill for ignoring more than 200 penalties the private parking firm took her to court last year.
Dundee Sheriff Court has now ruled Mackie was not entitled to leave her car there without a permit despite her stepfather being a tenant and having a garage at the property.
On ordering Ms Mackie to pay the £24,500 fine, Sheriff George Way said in a written statement that she had "entirely misdirected herself on both the law and the contractual chain in this case".
He said: "She knew perfectly well what the signs displayed, and that she was parking in breach of the conditions.
"She stated that (effectively a protest position) that parking charges were illegal and unenforceable in Scotland and that she could park where she liked as her father's guest.
"The defender is not the tenant. The defender's car was an additional burden on the parking facilities and she was the same as any other interloper.
"She was offered a permit by the factors (at a reasonable charge I think) but she refused on principle."
'She knew perfectly well what the signs displayed, and that she was in breach of the conditions.'

Sheriff George Way
He added: "Parking is not only an amenity but a valuable commodity in modern life."
Parking tickets from private companies are not fines but by parking in a restricted area a motorist can be considered to be agreeing to a contract.
Failure to pay can be seen as a breach of contract and the car parking firm can take the motorist to court to recover their losses.
Debt Recovery Plus Ltd, which acted on behalf of the parking company, said: "This is understood to be the highest value parking charge case ever awarded in the United Kingdom.
"As some people in Scotland believe that parking charges are unenforceable - despite the landmark 2015 Supreme Court judgment ruling in favour of a parking operator - a record number of court cases are now being pursued in Scotland.
"We are happy to work with any Scottish motorist experiencing financial difficulties who would like to make a payment arrangement to settle historic charges before court action is taken. "
Mackie has not responded to a request for comment but speaking in 2015 she said: "We have a right to park in front of our own property. I've considered moving out. It just makes my life so hellish.
"I always make a point of parking in front of my own garage, where nobody else could park, and never parking on the double yellow lines on the road."
Download: The STV News app is Scotland's favourite and is available for iPhone from the App store and for Android from Google Play. Download it today and continue to enjoy STV News wherever you are.