Celebrations as Grand National winner returns home
One For Arthur became the first Scottish horse to win the event since 1979.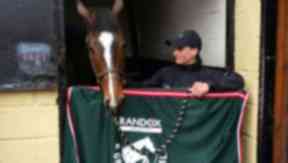 The winner of the Grand National, One For Arthur, has returned home to celebrations in Kinross.
Crowds gathered on Sunday to welcome him back after he became the second Scottish-trained horse to win the event in its history.
Ridden by Derek Fox, the horse clinched victory at Aintree on Saturday and is the first Scottish winner since Rubstic in 1979.
The eight-year-old animal was trained at Lucinda Russel's stables near Milnathort.
He is jointly owned by a duo known as "the golf widows", Belinda McClung from the Scottish Borders and Debs Thomson from East Lothian.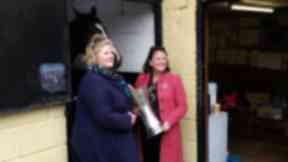 Fox only returned to horse racing this week after suffering a broken collarbone and wrist.
Assistant trainer Peter Scudamore said the win showed Scottish stables could compete around the UK.
He told STV News: "I just feel it's proven we can do it as well as anybody.
"Taking politics out of it, we are a Scottish yard in a British industry and we can compete."
He added: "The racecourses here in Scotland, they are the best administered, the best racecourses I've ever come across."
Ms Thomson said: "He's a superstar, dreams have come true for us really."