Domestic abuser attacked women in front of children
Graham Guilar carried out a campaign of abuse against eight women spanning seven years.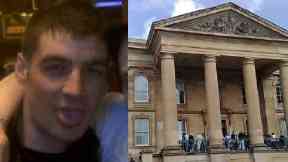 A serial domestic abuser who described himself as a danger to women violently targeted eight separate victims.
Graham Guilar, 33, a prisoner at HMP Perth, carried out a campaign of abuse spanning seven years that included abducting one woman and subjecting others to terrifying strangling attacks.
He also told one of the women: "You are mine and you will do what you're told when I say".
During his campaign of violence he attacked one victim as she held her daughter at a Hogmanay party by punching, kicking and headbutting her before attempting to bite her head while the child was crying hysterically.
He also subjected another victim to an attack in front of her children, prompting one to tell him "don't hit my mummy".
Guilar told her worried children their mum was "just being silly" and had fallen.
In another attack he punched the same woman on the face and told her it was " a real man punch" and "the type you only see in the movies".
The self-admitted violent drunk then assaulted the woman in the bedroom, straddling her and seizing her throat, compressing it with both hands until she could not breathe.
She desperately managed to kick him in the groin and was released, causing her to vomit on the wall.
Another of his victims was so scared to report his behaviour to police that she sat in front of a window as he attacked her in the hope that a passer-by would spot the violence and step in.
Fiscal depute Kirsten Thomson told Dundee Sheriff Court that Guilar had a string of previous domestic abuse convictions involving the three women.
She also described a horrific toll of violence dished out to five other women who had fallen for the career criminal.
On one occasion he appeared at the house of one of his victim's friends by kicking the door open and confronting a man who he accused his then-partner of sleeping with.
When his girlfriend got in-between the two men Guilar punched her on the face before grabbing her by the neck and throwing her to the ground.
On another occasion he grabbed the same woman by the throat and pinned her against a door frame.
The victim that she was only released when a friend came to her aid.
Guilar assaulted a fifth victim on Valentine's Day, stamping on her chest while wearing heavy boots after throwing her to the ground.
The terrified victim tried to escape the abuse by climbing through a half open window but Guilar managed to hold it shut.
Appearing at court on Wednesday, Guilar pleaded guilty to four charges of assault and one of abduction, committed between January 1, 2010, and December 31, 2016, at various addresses in Dundee.
Defence solicitor John McGeechan said Guilar had been the victim of violence growing up and that he had "saved the complainers the distress of a long jury trial".
Sheriff Lorna Drummond QC jailed Guilar for three years and ten and a half months for his seven-year campaign of physical and psychological abuse.
He will also be monitored in the community for a year after his release.
Ms Drummond added: "You describe yourself as a danger to women and I think that's an accurate description."
Download: The STV News app is Scotland's favourite and is available for iPhone from the App store and for Android from Google Play. Download it today and continue to enjoy STV News wherever you are.