Scots mother who scooped £148m lottery win wants to 'make people smile'
Adrian and Gillian Bayford celebrated their win with a family meal at Domino's.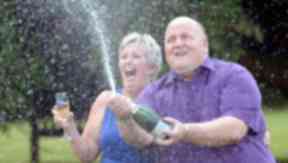 The Scottish woman who has won £148m with her husband on the Euromillions said Scots have so much luck on the lottery because they have "short arms and long pockets".
Adrian and Gillian Bayford scooped the prize on Friday after matching five numbers and two lucky stars.
Mrs Bayford, originally from Kirkcaldy but who studied at Harris Academy in Dundee, said she hoped they could "make people smile" with their win.
The couple have two children, Cameron, four, and Amy, six, and live in Haverhill, Suffolk.
At a press conference on Tuesday, the couple said they had gone public as they wanted to share the winnings with others.
Mrs Bayford said: "I want to make people smile, there's too many people walking around with sad faces. It's not just us who need to smile.
"It's something to share with other people, people who need help. Friends and family, people have been by us, who have supported us. Who have assisted us in the good and bad times - we can repay them."
And the family celebrated with a meal at Domino's after Amy asked if they had "made enough money" to go to the pizza restaurant.
Instead of giving up on the Lottery, Mrs Bayford said she had bought another ticket for the draw and sent it home to her mother in Scotland.
They have won the second largest amount of money in the UK after Colin and Chris Weir from Largs scooped £161m last July.
Asked why Scots have so much luck in the draw, Mrs Bayford answered: "We've got nice short arms and long pockets. We can just reach the £2 for the ticket."
Friday's winning numbers were 50, 21, 17, 48 and 11, and the Lucky Star numbers were 09 and 10.