New forensic science lab opens in Dundee
VIDEO: Purpose-built multimillion-pound centre will be home to more than 100 experts.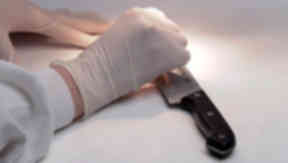 A new multimillion-pound forensic science laboratory has officially opened in Scotland - the first in almost 15 years.
The purpose-built facility, at Rushton Court in Dundee, will house more than 100 forensic experts and 30 ICT specialists from the Scottish Police Services Authority.
The new five-storey, 50,000 sq ft facility on the Dundee One site will provide many of the latest crime-fighting technologies and will feature a photographic studio, biology, drugs and chemistry laboratories, fingerprint and scene examination units, the DNA robot, and the Scottish DNA database.  
The experts have moved in from their previous premises within Tayside Police headquarters.
The new facility was named after the late Doctor Donald Rushton, a pioneering forensic pathologist, who was one of the first individuals to introduce forensic science into the Dundee area.
Justice Secretary Kenny MacAskill performed the official opening. He said: "I am proud of the excellent work done by SPSA's expert forensic scientists. Forensic science has come a long way since Dr Rushton started his pioneering work in Dundee in the 1960s and I am delighted that the Scottish Government has been able to provide this state of the art facility in the city.  
 
"These facilities will improve our ability to gather and analyse evidence found at crime scenes and to help solve the full range of crimes from house breaking to the most serious crimes of all."
Tom Nelson, Director of SPSA Forensic Services, said: "For years our forensic science experts have been working in spaces that were cramped and overcrowded. The new facility provides our experts with a bespoke working environment that fits their specific needs but that is also adaptable to changing demands.
"The laboratories and enhanced facilities will enable us to take forensic science in new and exciting directions, supporting advances in academic and technical knowledge, while providing an effective service to our customers across Scottish policing."     
For the first time forensic experts will have access to a cutting-edge laboratory space specifically designed for carrying out blood pattern experiments, a method used by forensic scientists to get the crime scene to tell a story.