Protest staged over closure of centre for adults with disabilities
Kemback Street Day Centre in Dundee helps adults with a wide variety of disabilities.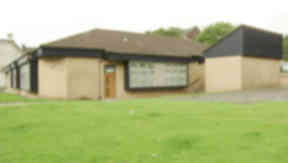 A protest has been staged in Dundee over the closure of a learning centre for adults with disabilities.
The city council wants to shut the Kemback Street Day Centre, but service users say it is vital and there is nothing to replace the facility with.
The centre, which opened in the city more than 25 years ago, was approved for closure in March but carers are concerned and have said they will consider legal action.
It has a capacity to care for up to 48 people with a range of disabilities including cerebral palsy and Down's syndrome and has around eight members of staff.
Some parents and carers feel there was no proper consultation before the decision to close was taken.
But the council has said people would continue to receive the support they needed.
Families and carers protested at City Square in Dundee on Thursday and encouraged people to sign a petition against closure.
Ken Lynn, convener of Dundee City Council's social work committee said: "In recent weeks, I have met with individual parents and representatives of local and national groups to discuss the developments that are ongoing in Dundee to improve care and support for people with learning disabilities, and am aware of their concerns.
"Our ambition is to bring about more flexibility to the kind of support available to adults with learning disabilities and ensure this is more personalised to the needs of the individual. This includes the continued option of day care. I believe this move towards giving people more choice to build the care package they need is the right direction to take and will improve their quality of life. Our policy gives people with a learning disability more control over their lives.
"As more opportunities for personalised support have been taken up in recent years, we have seen less and less people using Kemback Street. The closure of Kemback Street is not being driven by the pressure to save money. The motivation is to ensure that service users have the most appropriate form of support in keeping with their needs. "