Alex Salmond in 'positive discussion' with Andy Murray about tennis academy
Alex Salmond hopes to make an announcement about a national tennis academy in the 'near future'.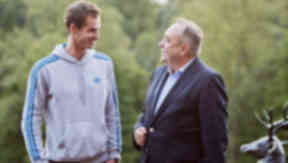 First Minister Alex Salmond has met with US Open champion Andy Murray and his mother Judy Murray to discuss ideas for a new national tennis academy.
Mr Salmond met Murray to give him his official Royal Mail Stamp for his success at the Olympics and also talked about plans to encourage young tennis players.
The tennis champion was given a hero's welcome by thousands of people in a triumphant return to his hometown of Dunblane, near Stirling on Sunday.
The 25-year-old has visited the club where he had started out as a youngster and has said he would like to see national facilities to support tennis in Scotland.
He said a new tennis academy would make a big difference to the sport.
Mr Salmond said on Monday he had discussed the development of tennis in Scotland including the possibility of a tennis academy being established to nurture the best of Scotland's young tennis talent.
Mr Salmond said: "I was delighted to meet Andy and to be able to present him with his official Royal Mail Stamp for his medal winning success at the London Olympics. Scotland is very, very lucky to have Andy Murray, whose legendary status is now secured for all time, and his triumphs at both the Olympics and at the US Open will act as a spur for future generations of Scots to emulate his success.
"Both Andy and Judy are passionate about developing tennis in Scotland to ensure that youngsters have a greater access to the facilities and coaching that they need to make the most of their talent and potential.
"We had a positive discussion yesterday about their idea for a tennis academy which is certainly in line with the Scottish Government's ambition to improve young Scots participation in sport. We'll be exploring this with the Murrays and their team over the next two months and we hope to make an announcement in this regard in the near future."
Murray became the UK's first Grand Slam men's singles champion for 76 years when he beat Novak Djokovic in five sets the US Open final at Flushing Meadows last Monday.
This summer he has also won gold and silver at the London 2012 Olympics, in the men's singles and mixed doubles respectively.