Football fans hunted by police for anti-social behaviour after SPL games
British Transport Police is trawling through CCTV images to find those responsible.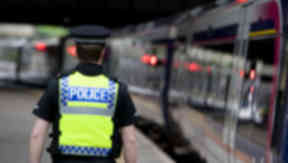 Two groups of football fans are being hunted by police for anti-social behaviour on trains following SPL matches.
Around 20 supporters shouted and sang sectarian songs on the 3.10pm train travelling from Perth to Inverness after the St Johnstone v Celtic match on Saturday, British Transport Police said.
Later that same day around 25 men shouted and swore as they travelled on the 9.37pm train from Inverness to Aberdeen following the match between the city's football teams. The police said a train conductor was threatened during the journey.
Sergeant Jim Wands said: "Anti-social behaviour will not be tolerated by BTP.
"Passengers and rail staff who have not attended a football match should be able to travel without encountering such unsavoury and unwelcome behaviour.
"I am appealing for anyone who was on either train and has information regarding the identity of those involved to contact BTP as a matter of urgency. CCTV from the trains and stations will be trawled to provide evidence against those believed to be responsible."
Anyone with information relating to the two incidents can contact the police on 0800 40 50 40.