Meteorite rocks believed to be worth £1m found in potato field
Robb Elliott has found meteorite rocks worth thousands of pounds at a Perthshire potato field.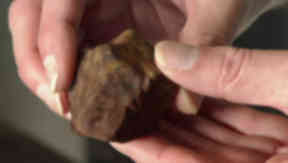 A meteorite hunter has found meteorite rocks believed to be worth £1m at a potato field in Perthshire.
Robb Elliott set out in the hope of unearthing more fragments of the Perth meteorite, which fell on the city's North Inch in 1830 but instead, just a few miles further afield, he has made one of the UK's biggest finds.
However Mr Elliott has declined to reveal the exact location of his find.
He will only say that he discovered them in fields between Errol and Balbeggie in Perthshire.
It is estimated that the rocks fell around 50 years ago and would have been visible as shooting stars.
He has said that the chunks are worth £50 per gram, which is equivalent to the price of gold.
Mr Elliott said: "There's going to be hundreds, at least hundreds more meteorites to be found there so we're talking £1m plus. If I can find exactly where they are, which I'm far from at the moment. I need to pinpoint it, but we're talking certainly in excess of £1m lying in the ground just waiting for someone to come along."
He is now planning a wider search of the fields with the permission of the farmers who will share in the fortune once the meteorites are sold.