Wanted: Citizen archaeologists to help conserve Scotland's coastal history
Scientists say 12,000 archaeological and historic sites are at risk from coastal erosion.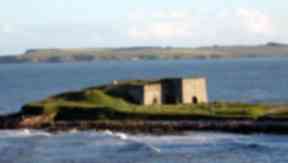 Members of the public are being asked to help preserve the memories of historic sites around Scotland which are at risk of crumbling into the sea.
Scientists say coastal erosion is putting thousands of archaeological and historic sites at risk of destruction.
They are struggling to keep up with what is being destroyed or uncovered and want "citizen archaeologists" to help them.
Around 40% of Scotland's coastline contains 12,000 archaeological sites and remains and there are fears they could disappear beneath the waves.
Boddin Point Limekiln, near Montrose in Angus, is one of the sites under threat. Built in 1750 on a seam of limestone, it used coal from Fife to fire the kilns.
Coastal erosion has already caused part of the building to fall into the sea and the rest is in danger of collapsing at any moment.
Conservation charity Scape has started the Scotland's Coastal Heritage at Risk project. They have spent the last 16 years recording the sites but are not sure what state they are in.
Tom Dawson, from the project, said they need local people to help them discover what still remains of Scotland's coastal history.
He said: "Some of these sites are very important but we don't know if they're still there or not; some of these may have already been destroyed. We would like local people to go out and monitor these sites for us. Really all we need is some basic information about the state they are in and, most importantly, a photo of the site."
A phone app has been created showing all 12,000 sites along with an interactive map on the project's website.
Once the information has been collected, 12 places will be chosen based on their significance and importance to the local community so they can be recorded for future generations.
Mr Dawson said: "We are doing this because thousands of sites are at risk around the coasts of Scotland and we need to prioritise action. Once we get this information we are going t work with local groups to do projects at some of them.
"We can't possibly save all of these sites but what we want to do is rescue information. We want to create video, models and details which will last much longer than the site itself so future generations can look at them and see what used to be there."
The project will run for three years until 2015 and is funded by heritage Lottery Funding, Historic Scotland, the Crown Estate and the University of St Andrews.
You can find out more about the project and get involved on the official website.