Princess Anne presents awards to businesses during visit to Angus
The Princess Royal has presented an award to J&D Wilkie Limited in Kirriemuir and Mackays of Arbroath in Angus.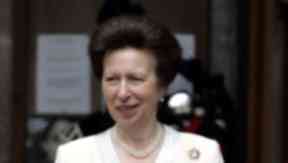 The Princess Royal has presented business accolades to two companies in Angus.
Princess Anne visited textiles company J&D Wilkie Limited in Kirriemuir and jam and marmalade manufacturers Mackays of Arbroath in Angus on Tuesday.
Both companies received a Queen's Award for Enterprise in International Trade.
Originally established in 1868, J&D Wilkie manufactures technical textiles with a primary market for filtration fabrics. The company also designs and manufactures ballistic and stab resistant body armour vests under the brand name of Jack Ellis.
Bob Low, managing director of J&D Wilkie said: "We are delighted and proud to have won this highly prestigious award and to be presented with it by The Princess Royal. The award is a fantastic credit to our staff who have made J&D Wilkie the business that it is today.
"With the company celebrating increased sales and a larger share of the market, the entire team should feel proud of the contribution they have made to date and motivated to continue striving for market share and ongoing success."
Mackay's were awarded The Queen's Award for International Trade back in April, and the Princess Royal officially marked the accolade on Tuesday by presenting the award to directors Paul and Martin Grant, meeting staff and touring the factory which produces the well-loved Mackay's and Mrs Bridges marmalades and preserves.
This is the second time the family business has received the coveted Queens Award, following its success in growing its international footprint to the position where it is now trading in 52 markets and exports account for 40% of its business.
Martin Grant, managing director, said: "We're delighted to welcome Princess Anne to our premises. We're immensely proud of our products, our growth story and our workforce, and remain focused on becoming the number one supplier of traditional marmalade around the world."
The Queen's Awards for Enterprise honours outstanding UK companies and encourages the development of British business.