Dundee musician Michael Marra dies following battle with illness
The singer and songwriter has opened for performers including Van Morrison and The Proclaimers.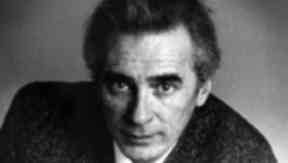 Renowned Dundee singer and songwriter Michael Marra has died following a battle with illness.
The 60-year-old singer, whose career saw him perform in venues from folk clubs to some of the biggest stages in the country, died on Tuesday night at Ninewells Hospital in the city. It was understood he has suffered ill-health for some time.
Jenny Marra the labour politician is his niece. He is also survived by his wife Peggy and his children Alice and Matthew, who are also musicians and are members of the Dundee band The Hazey Janes.
They had toured with their father earlier this year.
On Wednesday his family paid tribute to him in a statement: "We are devastated by our sudden loss but are comforted by the kind words of so many people who loved Michael, his music and his spirit. His life's work has told our family story, and the story of his beloved Dundee. Michael's songs are his legacy, given to Scotland by one wee boy from Lochee."
Marra was born and brought up in the Lochee area of Dundee. He worked extensively in theatre, radio and television and performed across the UK.
He shared a stage with a variety of performers including Van Morrison, The Proclaimers and Deacon Blue.
Marra was a passionate football fan and was well-known for writing a song about his favourite footballer, ex-Dundee United goalkeeper, Hamish McAlpine called Hamish the Goalie.
Mr McAlpine said: "He was a great talent when it came to his music and he was very passionate about the town. I thought it was a great when I heard he had done the song. It was very clever and quite catchy."
More recently, he composed songs for The Mill Lavvies, which premiered at Dundee Rep Theatre in September.
His song Mother Glasgow became popular after it was covered by Hue and Cry in the 1980s and he regularly performed at high-profile events like Celtic Connections.
Pat Kane from Hue and Cry said: "Marra was one of Scotland's greatest ever songwriters and performers. It's rare to have an artist who can move you to tears, make you think, and explode you with laughter- often in the one song!
"We've been singing his classic Mother Glasgow for over a quarter of a century now, and every audience we play for demands that song, so beautiful and profound is its message. Greg and I are very sad to hear this, it's a great artistic and personal loss. He's inspired us for many years, our condolences to his family and friends."
Donald Shaw, artistic director of Celtic Connections: "Michael was one of the incredible, typically underrated Scottish performers. Probably if he'd grown up in the Bronx he'd be as famous as Dylan now.
"He was a fantastic songwriter. One of his great songs is Hermless, which probably a lot of people in this country would like to see as a national anthem."
Singer Eddi Reader, who performed with him, paid tribute on Twitter saying: "God bless Michael Marra, songwriting GENIUS and wonderful, wonderful man. So kind to me, my heart is breaking dear God."
Your report: If you have information on this or any other story, please let us know. You can send information, pictures to web@stv.tv or call us on 0138 259 1016.
Feedback: We want your feedback on our site. If you've got questions, spotted an inaccuracy or just want to share some ideas about our news service, please email us on web@stv.tv.