UFO investigation after chef spots mystery object hovering in sky
Adrian Musat filmed a white light floating over Clunie Wood in Perthshire.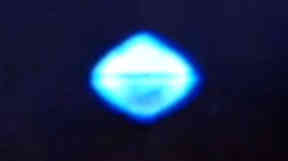 A UFO investigation has been launched after a chef filmed a mystery oval-shaped object hovering over a wood.
Adrian Musat, 40, of Pitlochry, Perthshire, saw the white light floating over Clunie Wood in Perthshire.
He recorded the mysterious light, before sending the tape off to supernatural investigators, the British UFO Research Association (BUFORA).
The father, who lives with his wife Nicoleta and two-year-old son Alex, said: "I have never seen anything like it.
"I watch out the window every day and we have a beautiful view, but I have never seen such a strange thing. It didn't make any noise."
Adrian first saw the unexplained sight from his home at 7.30am on the morning of Bonfire Night before it reappeared ten hours later.
He said the flashing UFO, which was flying above the woodland near Loch Fiskally, was about five metres wide and its colours were constantly changing.
Since then, Adrian has peered out of his window every day hoping for another sighting, but to no avail.
It is not the first mysterious object that has been seen in Pitlochry.
On August 4, 1990, two men saw a large UFO hovering for ten minutes in the nearby village of Calvine.
Matt Lyons, of BUFORA, said they have launched an investigation into Adrian's footage and will be speaking to Adrian in the near future to gather a wider understanding of the incident.
He said: "Investigation has commenced and I will be contacting the witness shortly."
A fortnight before Mr Musat's sighting an Aberdeenshire family were left terrified after a UFO invaded the skies above their home for nearly five hours.
Grandmother Morag Ritchie, 50, awoke suddenly at 2am on Saturday to see strange lights circling in the distance a few hundred yards from her rural property near Fraserburgh — about 100 miles north of Pitlochry.
In the video, taken by her daughter's fiancee, Scott Bower, a row of flickering lights can be seen hovering in the sky, before one of the lights moves off to the right and disappears.