Broughty Ferry veterans' home criticised by Care Inspectorate
The Care Inspectorate investigated a number of complaints about Rosendael Veterans' Home.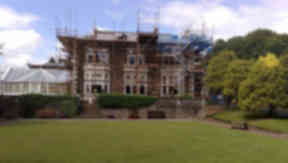 Inspectors have issued a critical report into a home for military veterans in Dundee.
Care Inspectorate officials visited Rosendael Veterans' Residence in Broughty Ferry in September after receiving a number of complaints to do with bullying and harassment.
The home was also at the centre of a police investigation after the sudden death of a former RAF serviceman.
A report from the watchdog has criticised the "weak" management and a "controlling environment" at a home.
However no evidence was found of alleged bullying and harassment, and a link between the complaints and the death of a resident has been ruled out.
The Scottish Veterans Housing Association which runs the independent living facility for ex-service personnel say they are already implementing the report's recommendations.
Ian Ballantyne, the CEO of Scottish Veterans Housing Association, said: "We are always keen to work closely with the Care Inspectorate to improve the important services we offer to ex-service men and women in Scotland and we have given them our full cooperation on the recent investigation at Rosendael.
"My colleagues and I are very heartened by the many positive comments about Rosendael and the staff made by residents, their relatives and others throughout the report. We know these positive views are shared by a large majority of those who currently live at the facility and they put some of the recent complaints into perspective.
"It's important to point out that despite some initial allegations that were made about a climate of bullying and intimidation at Rosendael, the Care Inspectorate has found no evidence of this in their report.
"The report also confirms that there is also no link between the death of one of our residents back in August and the complaints made to the Care Inspectorate, some of which were made prior to this tragic incident.
"The Care Inspectorate's report does outline some areas where improvements can be made to our services. We have already reviewed a number of policies and implemented some new procedures with direct input from our residents.
"I am pleased that there has been no requirement or recommendation to dismiss or discipline any of our staff, another key point which also puts the severity of complaints made against our people into perspective."