Torrential rain and winds set to hit parts of Scotland on Thursday
Risk of flooding and structural damage as heavy rain and winds of up to 70mph return.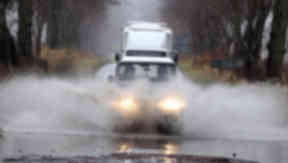 Heavy rain and winds are expected to return to Scotland on Thursday morning bringing more flooding to parts of the country.
Sepa has issued flood warnings for six areas in Tayside, including Crieff to Innerpeffray and Ballinluig to Logierait, saying that flooding is still expected.
On Monday residents were trapped in their homes in the village of Comrie in Perthshire. Emergency service teams are on stand-by in case river levels threaten the village again which was also hit by flooding in August.
Around 100 homes were affected in the Dalginross area when the River Ruchil burst its banks. Around 2000 extra sand bags have been delivered and temporary flood defences are in place.
Roads were also closed on Monday and transport services were severely disrupted as heavy rain and flooding hit parts of Scotland.
Ferry operator Calmac is still experiencing problems due to the weather with two services cancelled, including Fionnphort-Iona and a further two disrupted.
Sean Batty, STV weather presenter, said: "A very active weather front is set to push across western parts through the early hours of Thursday morning along with some very strong and gusty southerly winds. Winds around the Hebrides and coastal parts of Argyll and Ayrshire could reach as high as 70mph during the early hours.
"Throughout the morning the rain will spread east fairly quickly, reaching Aberdeenshire, Fife and Edinburgh and Lothians later in the morning. Stronger winds will also transfer to these areas with gusts of 50-60mph expected.
"Across many central and southern parts of Scotland 20-30mm of rain can be expected with some parts of the south west having totals of up to 60mm. This is highly likely to lead to further flooding problems and the strong winds could potentially lead to structural damage."
Traffic Scotland is warning of possible problems across affected areas.
A spokesman said: "A band of heavy rain is expected to move east across Scotland on Thursday. Following recent heavy rain across the south and west of Scotland the public should be aware that this may lead to localised flooding and possible disruption to transport. The rain will be accompanied by a strong and gusty southerly wind."