War hero died on 64th wedding anniversary after 'fighting off thief'
James Duguid is on trial for the murder of 88-year-old John Gillespie in Stirling in April last year.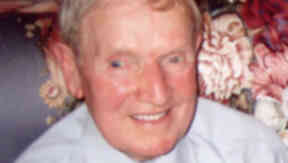 A war hero died on his 64th wedding anniversary after he allegedly resisted a thief who was trying to steal his wallet.
John Gillespie, 88, had been taking a walk along a riverside on a spring afternoon to look at the daffodils when a man stepped in front of him, a court was told.
On Wednesday, the High Court in Edinburgh heard how Mr Gillespie tried to fend off the man with his walking stick and ended up on the ground. He required surgery for a broken hip, but he went into a steady decline and died in hospital about a week later.
James Duguid, 51, is on trial for attempting to rob and murdering Mr Gillespie, also from Stirling, in April last year.
It is claimed he demanded the pensioner hand over his wallet, and pushed and pulled him at an underpass at the junction of Lovers Walk and Riverside in the city. He allegedly hit him with the walking stick, and dragged him along the ground.
Mr Gillespie's grandson Mark Cassidy, 41, told the court he tried to visit his grandparents regularly following his mother's death in January last year.
Mr Cassidy, from Balbeggie, Perthshire, recalled his "papa" being in very good spirits when he saw him about a day or two before the incident.
On April 19, Mr Cassidy was driving to his grandparents' house when he saw an ambulance near the riverside, which he knew was a favourite spot for his grandfather to take a walk.
He told prosecution lawyer Alex Prentice QC: "Whenever I saw an ambulance, I always thought, 'Oh no, it's papa'. It had not been...up to then."
He continued to the house and his grandmother told him she was concerned his grandfather had not arrived home.
Mr Cassidy added: "I said I would pop up to the riverside because I knew it was a route he walked to see the flowers. I didn't tell her I had seen an ambulance."
He approached a police officer at the ambulance and explained he was looking for his grandfather and gave his name.
Mr Cassidy told the court: "He said not to worry, he had had a fall. I went into the ambulance and my grandfather was being treated. He was very agitated. He was in pain. He was coping, but only just, really.
"He said he had been to see the daffodils. He was walking along and a man stepped in front of him and said, 'Gie's your wallet.' He demonstrated how the man thrust his hand out at him. He kind of raised his stick to try to keep the man away. The stick was seized and there was some pushing and pulling of the stick and the next thing he knew, he had fallen down."
Mr Cassidy said his grandfather had been "no shrinking violet" and it did not surprise him that he had offered resistance.
Over the coming days, Mr Gillespie had an operation for a broken hip but there was a very steady decline, and he died on Easter Monday - April 25.
Mr Cassidy said: "My grandmother is finding it quite difficult to cope. It has been an absolutely terrible time."
Mr Gillespie's son John, 57, told the court his father was a former Royal Navy sailor who had been mentioned in despatches for his conduct during the second world war.
Mr Gillespie, a father-of-six, said his father was a very energetic man who liked to read and get outside. He told Mr Prentice that his father was also active in his local church. Mr Gillespie told the court that his father was in "good shape".
He added: "He was elderly but very energetic. He was always on a mission. He loved his daily walk."
On the day that Mr Gillespie senior was allegedly attacked, Mr Gillespie Jnr told the court he was at his work in Stirling. He said he received a phone call from his sister Pauline who told him their father had been taken to hospital.
The court then heard Mr Gillespie passed away in hospital on April 25 2011.
Mr Gillespie told Mr Prentice: "He passed away on the 25th of April - on the day of his 64th wedding anniversary."
The trial also heard from Mr Gillespie's GP, Dr Philip Gaskell who said the pensioner was registered blind but still had some sight.
He told the court: "He had regular walks to Stirling Castle which is up a steep hill."
Duguid, from the Raploch, Stirling, has pleaded not guilty to a charge of murder and not guilty to another charge of attempting to defeat the ends of justice.
The trial before judge Lady Scott continues.