Perth Airport earmarked as base for new charity air ambulance
Newly-formed charity Scotland's Charity Air Ambulance (SCAA) will work to raise the funds necessary.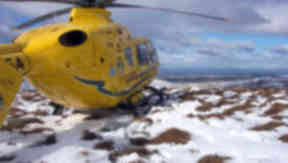 Perth Airport is set to be the base for Scotland's first and only charity-funded air ambulance helicopter.
The life-saving venture has been given the green light by the Scottish Government health minister and the Scottish Ambulance Service who will deploy the new aircraft when it comes into service.
Newly-formed charity Scotland's Charity Air Ambulance (SCAA) will work to raise the funds necessary to launch the country's newest fast-response medical air support early next year.
Eighteen charitable trusts across England and Wales currently operate a total of 32 charity-funded helicopter air ambulances while in Scotland the Government funds two helicopters and two fixed wing aircraft based in Glasgow, Inverness and Aberdeen.
The SCAA proposal will see an additional helicopter air ambulance supplementing the work of the Scottish Ambulance Service in delivering an even more extensive front-line emergency response service.
SCAA chairman, Perth businessman John Bullough, said the charity had identified an opportunity to work with the SAS to enhance the life-saving capabilities of Scotland's air ambulance resources.
He said: "Scotland is justifiably proud of her Government-funded air ambulance service and SCAA can offer the people of Scotland an additional helicopter and crew resource which will add flexibility and extra capacity to the service.
"This will be the people's air ambulance, funded by the public and supported by communities the length and breadth of the country who recognise the value of fast-reaction medical air support in the face of mishap, illness and tragedy."
Health Secretary Alex Neil said: "The Scottish Ambulance Service air ambulance is the only publicly funded air ambulance service in the UK and it continues to providing a vital service for patients across Scotland.
"However, I welcome the work that is being done by this charity to help enhance the provision of air ambulances across the country. In a country like Scotland with its island, remote and rural areas, it is important that we work collaboratively with partners to support community resilience.
"It is important that patients can rely on the provision of a safe, responsive and high-quality air ambulance service and the funds raised by this charity will help to continue to deliver a world-class, future-proof service that has been specifically designed to benefit patients throughout Scotland."
The new air ambulance will be based at Perth Airport at Scone and tasked by the Scottish Ambulance Service alongside their own aircraft.
John Bullough added that around £1.5m would be needed to fund the SCAA helicopter each year.
He said: "We will be looking to corporations, trusts, businesses, communities and the public in general in the weeks, months and years to come to keep this additional air resource flying."