Prisoner caught hiding mobile phone and charging lead up his bottom
Christopher Hughes was caught with the items during a search at Castle Huntly near Dundee.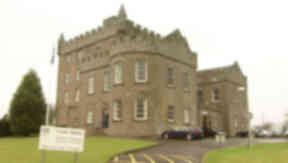 A prisoner was caught behind bars with a mobile phone and charging cable hidden up his bottom.
Christopher Hughes was caught with the phone kit during a full search at Castle Huntly prison near Dundee.
Hughes, who is serving nine years for stabbing four men in a taxi queue, admitted introducing a banned item into the jail.
At Perth Sheriff Court, Hughes, 25, from Cambuslang, admitted introducing prohibited items into the prison system by having a mobile phone and charging lead "concealed within your anal cavity."
Hughes had a further three months added to his current sentence when he appeared from custody at the court.
He was jailed for nine years at the High Court in Glasgow after going on the rampage in a taxi queue in Motherwell with a pair of scissors.
Hughes had been involved in a disturbance at the Mega Bar in Motherwell two hours earlier and told his friends he was going to "plunge" one of the bouncers, Kenny McQuade.
At 3am, he stabbed Mr McQuade three times, stabbed Craig Gilchrist on the left side of his abdomen and then knifed Kevin Smith twice on the body. Seconds later Hughes lunged at DJ Brian Bonnar and stabbed him in the stomach.
The High Court heard that doctors believed Mr McQuade's life had been endangered due to blood loss and he was left permanently scarred. Mr Bonnar, Mr Gilchrist and Mr Smith were all left permanently scarred too.
Hughes admitted one charge of attempted murder and three of serious assault to permanent disfigurement.