Knife-wielding man held up Co-op wearing boxer shorts on his head
Mathew Horner was jailed for 18 months despite claiming it was a prank.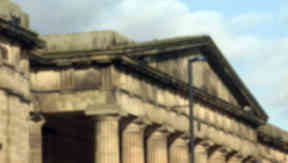 A man who held up a shopkeeper at knifepoint with a pair of boxer shorts on his head has been jailed for 18 months despite claiming it was a prank.
Youth football coach Mathew Horner donned the underwear as a makeshift mask before entering the store and demanding the staff hand over the till.
Horner's attempt to disguise himself and hold up the store was so hapless that one customer who was in the shop said: "Matt - that's not funny."
Perth Sheriff Court was told that although Horner tried to conceal his identity almost everyone in the Aberfeldy Co-op recognised him straight away.
Fiscal depute Charmaine Cole told the court that the circumstances were "quite unusual" and that the Crown accepted Horner was not carrying out an armed robbery.
His plea to the much less serious charge of breach of the peace was accepted after he made it clear that he had gone to the shop as a bizarre "prank".
Miss Cole said shopworker Muhammad Saleem knew Horner as a customer but was unaware of his name when he entered the shop with a large kitchen knife.
She said: "The accused had been out drinking. He came into the shop wearing a long black coat and something white covering his head. Reports varied on that from a pair of boxer shorts to a sheet.
"He was holding the kitchen knife partially concealed in his sleeve. He said 'give me the till' in a threatening tone about five times, and moved the knife up and down.
"Mr Saleem was shocked and took a step back, as did a female customer. She recognised the accused and said 'Matt - that's not funny.'"
Horner, who had split from his wife and learned earlier the same day she had found someone else, walked out of the shop and came back in a few minutes later to tell Mr Saleem it had been a joke.
Solicitor David Holmes, defending, told the court that Horner, who works as a fencer, was "inclined to be daft at times" and had not realised until later how serious his prank would be taken.
He said: "There's a body of evidence here which indicates this was a prank. They knew who he was. He didn't realise the consequences of what he was doing."
Horner, 32, of Aberfeldy, admitted assault and breaching the peace at the Co-op on February 26 by presenting a knife and demanding that the cash register be handed over.
Sheriff Lindsay Foulis said: "It's no surprise the employee was placed in a state of fear and alarm. You may have thought it was a bit of a prank. The employee didn't think so.
"You cannot behave in that way and present it as an ill thought-out attempt at humour and expect the court to deal with it that way.
"It's not for me to suppress elements of humour, but there are times and places and locations where it is in actual fact totally and utterly inappropriate."
Feedback: We want your feedback on our site. If you've got questions, spotted an inaccuracy or just want to share some ideas about our news service, please email us on web@stv.tv.