Ex-police officer who wrapped woman's head with tape loses appeal
George Stewart was found guilty of assaulting a woman at East Port Bail Hostel in Dundee.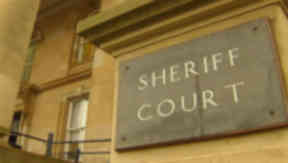 A former police officer who wrapped sticky tape around the head of a woman in a bail hostel has failed in his bid to have a compensation order thrown out.
George Stewart was ordered to pay £1000 to Arlene Pattie earlier this year after he was found guilty of assaulting her at the East Port Bail Hostel, Dundee, in July 2010.
Ms Pattie, who worked at the hostel, claimed she had been handcuffed to rings on a sash window in a crucifix position before Stewart went to her desk, took out a roll of tape and began wrapping it round her head.
Dundee Sheriff Court was told during Stewart's trial that Ms Pattie spent several weeks on sick leave after the incident.
Sheriff Richard Davidson told Stewart, 35, that his behaviour had been "unprofessional" and "juvenile" and ordered him to pay her £1000.
However, an allegation that the ex-police constable had been responsible for 'crucifying' Ms Pattie was deleted from the charge.
Lawyers for Stewart argued at the Justiciary Appeal Court that the sheriff should have ruled that there was no case against him because he did not act out of evil intent.
But the Lord Justice Clerk, Lord Carloway, said the act had taken place without the victim's consent and had left her "shocked, speechless, alarmed and terrified".
He ruled that the figure of £100 had been selected on the basis that Ms Pattie's ordeal was "painful, frightening and humiliation".
He also noted that the sheriff now considered he should have held Stewart responsible for the handcuffing as well.
"Whether the appellant thought he was engaging in 'banter' or 'horseplay' with the complainer, and no matter how he thought she would react to his actions, what he did was deliberately attack the physical person of the complainer," Lord Carloway added. "That constitutes the crime of assault."