Tim Burton and Helena Bonham Carter play football game in Forfar
The Hollwood A-listers turned up at the town's leisure centre to play five-a-side football on Hogmanay.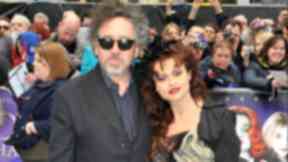 Staff at an Angus leisure centre got a shock on Hogmanay when two Hollywood A-listers turned up to play football.
Director Tim Burton and his wife, actor Helena Bonham Carter, arrived at Forfar's Lochside Leisure Centre on Monday afternoon, under a booking in the name of David Ogilvy, the 13th Earl of Airlie.
Leisure centre workers were astounded when the couple turned up and started playing in a five-a-side game.
One worker, writing on the Angus Leisure Facebook page, said: "They just came into play fives. The booking was under David Ogilvie from Airlie Castle so I think they are just here to bring in the New Year."
A council source said: "It was a massive surprise for everyone at the centre. They were really lovely - a great couple and very down to earth and they seemed to enjoy their visit.
"They will, of course, be welcome back any time!"
A centre visitor, who was in the building when the couple turned up, added: "Helena was playing football in her boots and dress - it was quite a sight.
"They were great - one of the workers had a Batman t-shirt and Tim took the time to stop and autograph it for him."
The pair are believed to be spending the New Year holiday in Angus.
Burton and Bonham Carter began their relationship while filming Planet of the Apes in 2001. They had their first son, Billy, in 2003 and their daughter, Nell, in 2007.
The director has a string of huge successes under his belt, including the Michael Keaton Batman films, Alice in Wonderland, and a series of collaborations with Johnny Depp including Edward Scissorhands, Sweeney Todd and Charlie and the Chocolate Factory.
Helena Bonham Carter is best known for her appearances as Bellatrix Lestrange in the Harry Potter series and as Queen Elizabeth in The Kings Speech, which saw her nominated for a number of major awards.