Hunt for man who tried to impersonate police officer in Fife
A woman was stopped while driving her car between Springfield and Cupar.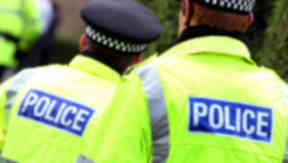 Police have appealed for information after a man tried to impersonate an officer by stopping a woman in her car.
The 56-year-old woman was stopped near Cupar on Thursday morning by a man who claimed he was a police officer.
She was driving her car between Springfield and Cupar about 6.40am when she was signalled to stop.
When she stopped the man started to ask her questions. She refused to answer any more questions when he was unable to produce his warrant card.
She said that she would go to the local Police Station and the man said he would follow but when she arrived at the Station, there was no sign of the other vehicle.
Jill Harper, area chief inspector for North East Fife, said: "Incidents like this are extremely rare and we are looking for members of the public to help us identify this man.
"He is described as white, 5ft 8ins tall, of stocky build and with a local accent. He had dark hair and longish sideburns. He was also wearing dark trousers and a jacket.
"He was standing beside a light coloured compact BMW car.
"This lady has acted correctly on this occasion. If you are unsure about anyone's identity, always ask for identification. If they cannot produce any, then either call Fife Constabulary on 0845 600 5702, or ask them to follow you to the police station."