Tax cheat businessman jailed for nine years for £26m VAT scam
Would-be actor Shahid Ramzan was jailed after being found guilty of VAT fraud.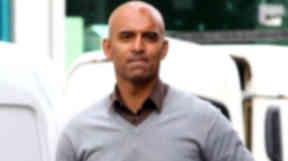 A would-be actor convicted of a massive series of scams which cheated the government out of more than £26m in VAT has been jailed for nine years.
Former DJ, marketing consultant, pop promoter and nightclub boss Shahid "Shy" Ramzan claimed to be an entrepreneur buying and selling mobile phones.
But after trial, he was found guilty of carousel fraud and money-laundering.
Passing sentence judge Lord Brailsford told Ramzan he had carried out "serious crimes of dishonesty" that required intelligence to plan, organise and execute fraudulent schemes.
He said: "These fraudulent schemes were carried out over a prolonged period of time between October 2002 and July 2004.
"As a result of this conduct the public purse has been deprived of revenue which it was entitled to."
He added: "You do not in the main accept responsibility for these offences and further consider that others should be prosecuted."
Ramzan, who had a bit-part in Ken Loach film Ae Fond Kiss, began trading from a bedroom with only a phone, a fax machine and a computer.
Prosecutors claimed his international wheeler-dealing from Cortachy Crescent, Broughty Ferry, Dundee, his parents' house, was only a cover for exploiting loopholes in VAT regulations.
Ramzan even set up front firms as a way of exporting his dirty cash from Scotland.
The companies were legally Spanish, had addresses in Barcelona and Madrid on the stationery but operated from Dundee with bank accounts in Kilmarnock.
Ramzan was convicted of evading, either alone or with others, VAT payments of £5,611,839 between October 2002 and July 2004 and transferring or hiding criminal property worth £20,610,213.
The verdicts ended court proceedings which began in 2007, the result of Operation Slayer set up by Her Majesty's Revenue and Customs.
Three years earlier, investigators had raided the former post office building in Dundee's Meadowside which Ramzan wanted to be a nightclub.
They took away boxes of purchase orders, invoices, emails and other computer records revealing the activities of companies linked to Ramzan.
Paper trail
The paper trail exposing two years of multi-million pound deals filled 150 large lever-arch files.
One of the Crown's 55 witnesses took nine days in the witness box to explain the accounts.
The trial heard that VAT frauds were costing the taxman up to £2.6bn a year, it was estimated, until rules were tightened up. These frauds involved tricking the authorities into refunding VAT which had never been paid.
In the scam, goods zero-rated for VAT because they came from another EU country would be imported, then sold in the UK with VAT included. But the VAT wasn't paid to the authorities.
After passing from one buffer company to another, a broker would finally export the same items, claiming a VAT refund. By then, the original "missing trader" would have disappeared.
Ramzan's firms played the parts of "buffer" and "missing trader" at different times during his scams.
During the trial, Ramzan told the jury about his brief film career and claimed the film Ae Fond Kiss, a comedy about a romance between an Asian DJ and a Catholic girl, was based on his life.
He also described himself as a marketing consultant handling publicity for nightclubs but later admitted he had been handing out leaflets for cheap booze.
The authorities will now try to claw back the profits Ramzan made from fraud. He was served with papers alleging he had benefited by as much as £6.8m.
Defence QC Murray Macara told the court Ramzan's position had not changed since the trial.
He said: "Mr Ramzan gave evidence denying responsibility for taking part in any course of dishonesty or fraudulent act and he was convicted by the jury."
Mr Macara also told the court his client felt he has been "singled out" for prosecution but the judge told him "I simply look at the evidence which has been proved in this court".
Lindsey Miller, Head of the Crown Office's Serious and Organised Crime Division, said: "Shahid Ramzan has been convicted of playing a central role in a complex, large scale operation which set out to defraud the Treasury, and by extension the people of the United Kingdom, of over £20m.
"I hope that his conviction and sentence send a strong message to others involved in this kind of criminal behaviour. In particular it demonstrates the ability of our specialist teams to prepare and prosecute cases of the utmost scale and complexity.The Crown will continue to work with HMRC and other law enforecement agencies to ensure that those found to have committed such offences are brought to justice."