Fine for doctor who killed an obese woman
A doctor, who hit an obese woman whilst on his way to a training course, was fined £5,000.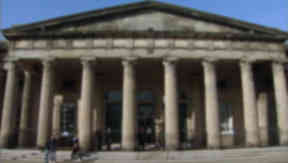 A doctor who killed a morbidly obese woman on his way to a medical team bonding course was fined £5,000 and banned from driving for three years.
He was not sent to prison because, if the woman had been of average size, she would have survived the impact.
A sheriff fined Dr Benjamin Kendrick his entire savings after ruling out community service because he was already serving the community through his work as a surgeon.
Sheriff Michael Fletcher also ruled out jailing Kendrick because his 29 stone victim could have survived the head-on crash if she had been of average build.
Kendrick admitted killing holidaymaker Joan Johnston, and injuring her husband and three of his colleagues as they drove to a medical course in Scotland.
The orthopaedic surgeon lost control of his rented people carrier and smashed into a vehicle, causing the death of Mrs Johnston.
Her weight was so great that both the ambulance and the air ambulance called to the scene were unable to transfer her to hospital, and eventually a helicopter from RAF Kinloss took her to Ninewells Hospital in Dundee.
Kendrick, 34, admitted causing the death of Mrs Johnston by driving carelessly on the A93 Perth to Braemar road on 6 May last year.
Community service
Sheriff Fletcher said: "Your contribution to society in your everyday work is extensive. At the time of the accident you employed all your medical skills to help the persons who were injured.
"If the person had been of average fitness they might have survived the injuries caused by the collision. A custodial sentence is not appropriate.
"Taking into account the service to the community provided by you in your daily life as a surgeon and the hours of work and travel involved - the public interest would not truly be served by substituting community service for the service provided by you.
"The appropriate sentence is a substantial monetary penalty," he said, fining Kendrick the full 5,000 pounds he told Perth Sheriff Court he had in the bank.
Solicitor Douglas Russell defending, said that the injuries would have been "survivable" by Mrs Johnston if she had not been morbidly obese.
He said: "The accused weighed 29 stone. Due to her size she had a seatbelt extension. The seatbelt was almost cut through. The injuries would have been capable of recovery by someone who was not compromised in other ways.
"Regrettably it was not possible, because of her morbid obesity, to be taken by either the ambulance or the air ambulance. It was more than four hours before she got to the hospital."