Farmer left 350 animals to starve to death on his land over five months
John Ferguson left animals to starve to death on his 700-acre farm in Perthshire.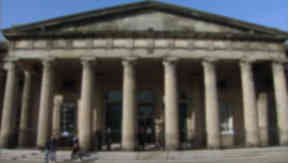 A wealthy landowner who left more than 350 sheep and cows to starve to death on his farm has been banned from keeping animals for life.
John Ferguson, who owns a string of garages, a nightclub and a multi-million pounds wind farm operation was ordered to carry out 300 hours of unpaid work.
Ferguson left the animals to starve to death on the 700-acre farm and Scottish SPCA inspectors found a scene of unparalleled carnage on his land.
The catalogue of horror, which was discovered after an anonymous tip-off, included the skeletal remains of 340 sheep and 14 cows.
Perth Sheriff Court was told on Wednesday that two thirds of the surviving herd of cattle were "extremely emaciated".
One cow had died giving birth and had been left with her dead calf's leg protruding.
Fiscal depute Catherine Fraser said: "On February 23, 2012, the SSPCA received an anonymous letter of complaint in respect of the farm.
"The farm inspection went ahead on February 28 and 29, during which time the extent of mismanagement at the farm was discovered.
"The farm had over 1120 sheep and a herd of 150 cattle. Many were emaciated. In some of the fields there was no access for the animals to shelter from adverse conditions.
"There was little to no grazing across the farm. Across the farm, there were numerous animal carcasses in various states of decomposition. Those animals that had recently died were emaciated.
"Rings of wool were observed on fields where sheep carcasses had lain. In total, 340 sheep and 14 cow carcasses were removed to the knacker's yard.
"In a number of fields cattle in very poor condition were observed. The skeletons of the beasts were clearly visible. In Scotland a scoring system between one and five is used to assess the body condition of animals.
"Animals that score one are considered to be extremely emaciated. These cattle had a condition score between 0.5 and 1.5.
"The carcass of an emaciated cow was found on the hill. It was evident the cow had died in the course of childbirth.
"Since September 2011, the accused had been attempting to manage the farm single-handedly alongside his other business commitments.
"He admitted he had not seen some of the animals that were found in the worst condition for two weeks prior to the inspection."
The 50-year-old farmer and businessman left the dead animals on land at Welton of Creuchies farm in Alyth over a five-month spell last winter.
He admitted two charges relating to the unnecessary suffering of beasts on his farm estate.
The farmer, who has a herd of 1120 sheep, failed to provide a suitable environment for his livestock between October 1 last year and February 23 this year.
Counsel Mark Stewart QC, defending, said: "This has had a dramatic effect on his personal, family and social life and is something that will not be forgotten in the farming community.
"He does run other successful businesses and this has been a catastrophic event in his life. It was a catastrophic failure."
He told the court Ferguson had suffered a "minor breakdown".
Sheriff Lindsay Foulis said Ferguson's guilty plea meant the maximum sentence of 12 months would immediately be cut by a quarter, but in practical terms would amount to little more than two months in prison.
He imposed the maximum 300 hours unpaid work as a direct alternative to a prison term and banned Ferguson for life from keeping or dealing with animals.