Mountain rescue teams join search for student David O'Halloran
The 18-year-old has not been seen since returning from a night out in Stirling early on Friday morning.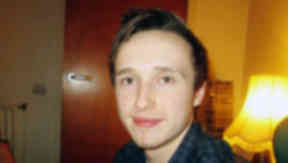 Mountain rescue teams have been drafted in to help search for a student who went missing after a night out in freezing temperatures.
David O'Halloran, 18, has not been seen since the early hours of Friday after leaving Dusk nightclub in Stirling.
Friends saw him get into a taxi at Dalgleish Court at about 12.30am and he was later spotted at the main entrance to Stirling University at around 1.57am.
A friend reported him missing on Sunday. Central Scotland Police said his disappearance was "completely out of character".
Homeowners in the area of the campus have been asked to check sheds and outbuildings as a 40-strong police team, rescue workers and around 20 university staff co-ordinate the search.
Chief Inspector Gordon Dawson said: "We are continuing the search for David and have 40 search trained officers involved in this enquiry.
"I have utilised the expertise of searchers from Mountain Rescue and the International Rescue Corps. 20 staff members from Stirling University have also assisted in the search for David.
"Although not exhaustive we are concentrating the search in and around the university grounds area which is where David was last seen.
"We are also appealing to the public to check garden sheds and outhouses in the event David has taken shelter there".
Mr O'Halloran, originally from Kilmaurs, Ayrshire, is 5ft 5ins tall, with brown hair with blond highlights which is short at the back and longer on top, is of slim build. When he was last seen he was wearing a white T-shirt with black and green checked shirt on top, black slim-fit jeans and black trainers.
Anyone with information is asked to contact Central Scotland Police on 01786 456 000.