Battle to save closure-threatened Byre Theatre in St Andrews
The Fife arts venue is to shut its doors after running into financial difficulties.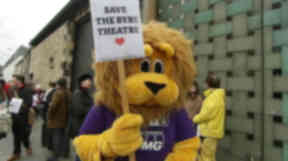 A battle to save a closure threatened Fife arts venue has been launched.
The Byre Theatre in St Andrews is set to shut its doors later this week after running into financial difficulties. But supporters say the show must go on.
The board of the Byre Theatre said running costs and the withdrawal of an annual grant from the former Scottish Arts Council had forced the move.
It is understood the theatre has struggled to cover its costs ever since it was reopened after a £5.5m refurbishment in 2001.
On Monday supporters turned out at the venue, which has hosted drama productions for more than 80 years, in a bid to highlight its importance to the local area.
Thousands have backed an online campaign to rescue the theatre from closure and staff have volunteered to keep the venue open for a children's dance show this week raising funds for charity. Sir Sean Connery attended the opening of the theatre in 2001.
Frank Quinault, chairman of The Byre Theatre Board, said the theatre would close its doors on Thursday and would need around £75,000 to £100,000 to save it.
He said: "It is extremely important for St Andrews, it's an arts venue and it is 80 years of history. It is very much a community facility important for young people and older people."