Mother killed 'abusive' partner with wine glass after he 'flew into a rage'
Natalie Scott hit James Dornan with a wine glass at their flat in Stirling.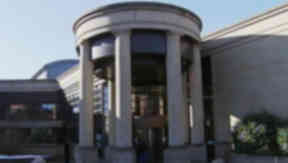 A woman killed her partner who was said to have subjected her to regular domestic abuse, a court heard.
Natalie Scott hit James Dornan with a wine glass after it was claimed he "flew into a rage" and attacked her in March 2012.
Mr Dornan, 33, a serial criminal with a conviction for violence, was discovered dead in the flat in Stirling the next morning.
Scott was later arrested and revealed how her 18-month relationship had involved "physical and mental" abuse by Mr Dornan.
The mother was also found with injuries that were consistent with "systematic" domestic violence.
Scott appeared at the High Court in Glasgow on Friday charged with murder. But the 27-year-old instead pled guilty to the reduced charge of culpable homicide.
She was remanded in custody and will learn her fate when she is sentenced later this year.
The court was told Mr Dornan had more than 30 convictions to his name and was jailed for housebreaking in 2011. The police were involved in a number of reports of domestic violence between Scott and Mr Dornan, but these did not result in a prosecution as the mother was "reluctant" to make a complaint.
However, Peter McCormack, prosecuting, said: "The deceased had admitted to Crown witness Gary Dornan that he had hit the accused."
Mr McCormack added: "The accused was frequently seen with injuries apparently caused by the now deceased. The police had also been involved in complaints of domestic violence by the deceased towards his previous partners."
On March 4 last year, the day of the killing, Mr Dornan was so drunk he had to be escorted by the police back to the couple's home in Maitland Crescent, Stirling. Witnesses later heard a female shouting "just get out".
The court heard an argument later broke out between the couple. Dornan was said to have then attacked his girlfriend accusing her of being unfaithful. Scott then struck out with a wine glass she was holding causing it to break.
A blood-soaked Scott fled to a friend's home where she said she had been "leathered" by her boyfriend and dragged across the floor.
Scott went back to her flat briefly where Mr Dornan was found still alive lying on a bed. She returned the next morning before telephoning her friend to say her partner appeared dead.
A 999 call was made, but nothing could be done to save him. Mr Dornan's death was mainly attributed to multiple wounds.
Scott was later examined by a medic and she was found to have a number of injuries including gaping wounds on her hand as well as multiple bruises and scratches.
Prosecutor Mr McCormack said: "The bruising could not be accurately dated, but was consistent with systematic domestic abuse according to the doctor who examined her."
Scott told police that Mr Dornan had been arguing with her that night before he "flew into a rage" before dragging her onto the floor.
The court heard she later described her relationship with Dornan which "involved regular physical and mental abuse" at his hands.
Judge Lord Turnbull deferred sentencing for reports