Perthshire farmer says Scottish Wagyu beef can be new delicacy
Crossing Scottish cattle with renowned Japanese Wagyu could create new super-tasty species.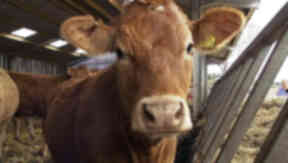 A farmer who aims to produce one of the most expensive meats in the world is hoping others will follow his lead and establish a new Scottish delicacy.
Japanese Wagyu embryos are being sold for the first time at a Scottish cattle show as Moshin Al-Tajir tries to spread the new line of cattle across the country.
Wagyu beef, which is considered a tender and succulent meat, can sell for up to £10,000 for a whole carcass in Japan.
Mr Al-Tajir and his wife Martine have been cross-breeding Wagyu with traditional Scottish pedigree cattle such as Highlanders and Short Horns at Blackford Farm in Perthshire.
Wagyu cattle is traditionally reared in warm temperatures but the farmer hopes crossing it with Scottish cattle can eventually lead to a pure-blood Scottish Wagyu that can stand up to the weather.
He said: "We have a herd of pedigree Wagyus, a herd of pedigree Angus and we have a herd of pedigree Shorthorns. We take the female calves while they're young and put embryos in them, and they produce pedigree Wagyu calves.
"We're trying to bring our own Wagyu to the country, Wagyu comes from very soft temperatures so they're not used to the harshness of the Scottish countryside, so we're trying to produce an animal that will stand up to the weather.
"We're taking all kinds of cattle and putting the Wagyu bull over them to produce crosses and the idea is to keep the girls and put another Wagyu bull over them again and again so that eventually you can come back to a pureblood Wagyu that has the Shorthorn or Highlander genetics and will be more used to our environment."
The farmer bought Wagyu cattle and embryos from Australia last year and started cross-breeding.
Wagyu beef is famous for the streaks of fat that run through it giving it a 'marbled' effect. Food lovers say it makes the beef particularly soft and adds extra flavour when cooking.
Premium cuts of the beef are sold for hundreds of pounds in the UK, in part due to importing costs.
"Almost all Wagyu that is eaten here comes from Australia or America and I can't understand why we don't do our own," Mr Al-Tajir said.
"We certainly have the market for it, so we're trying to produce it and I think being Scottish would make it even better.
"Most people say the best beef in the world comes from Scotland, when you go into a New York restaurant they tell you Scottish Angus is the best. This could add to that reputation."
The embryos are being sold at the Stirling Bull Sale, one of the biggest events on the agricultural calendar, which starts on Monday.
Thousands of farmers attend the sale to view and buy pedigree cattle, and prizes are also awarded to the best animals on show.
Mr Al-Tajir is auctioning 18 Wagyu embryos with a reserve of £750 on each of them, but he said the sale is not about making money.
He added: "The point is not how much we get for them. As a farm we are the owners of Highland Spring water, we don't need money from outside, we're not looking for the money, but if we can get people buying them then we can get this breed going.
"We want people to produce Wagyu, to see Scottish Wagyu as a breed of animal."
The name Wagyu means 'Japanese cattle' and Mr Al-Tajir has established Highland Wagyu as a brand to market the meat that he hopes to soon be producing.
He said he already has buyers for the pure Wagyu calves he hopes to raise in the coming years and he has had interest in the embryos ahead of the Stirling sale.
Mr Al-Tajir added: "This year I think there are 1100 bulls at the sale from different breeds. They still haven't sold a live Wagyu animal but these embryos are the first of their kind to be sold in the country, it's exciting.
"We could bring them out and no-one buys them, but I'd like to see them sold.
"We have put a reserve of £750 on each egg and they will be sold in three lots of six. Aberdeen Angus embryos are sold for around £500 and we thought these are a little more valuable, so we'll see how it goes. If it goes well then all well and good, if it doesn't then we'll breed our own and sell our own."
Feedback: We want your feedback on our site. If you've got questions, spotted an inaccuracy or just want to share some ideas about our news service, please email us on web@stv.tv.
Download: The STV News app is Scotland's favourite and is available for iPhone from the Apple store and for Android from Google Play. Download it today and continue to enjoy STV News wherever you are.
Join in: For debate, chat, comment and more, join our communities on the STV News Facebook page or follow @STVNews on Twitter.