University of St Andrews returns £12 to economy for each £1 funding
Scotland's oldest university also supports more than 8900 full-time jobs find new report.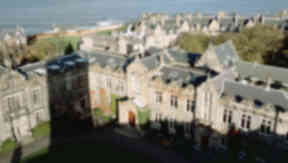 The University of St Andrews contributes over £484m per year to the Scottish economy and supports more than 8900 full-time jobs, according to a new economic impact report.
Scotland's oldest university, one of the country's smallest, has increased its economic impact by £179m a year since 2008-09, according to the independent report produced by Midlothian-based BiGGAR Economics.
The university, which has 7777 full-time students and employs 2355 staff, was founded in 1413.
The report – Economic Impact of the University of St Andrews 2011-12 – found that for every £1 of public teaching and research grant invested in St Andrews, the university returns £12.10 to the Scottish economy.
However, the number of full-time jobs supported by St Andrews has fallen from 9197 in 2008-09 to 8913 last year. The University says this is due to general changes in the economy and particularly a requirement to spend more on rising external utilities charges, even although its energy consumption has flat-lined for the past two years.
St Andrews chief operating officer Derek Watson said: "Like many other Scottish universities, St Andrews has grown to become an exporter of world-class teaching and research to the rest of the UK and overseas. Over a third of our student body now comes to study in Scotland from overseas.
"Our primary mission is and always will be the pursuit of excellence in education and research, but this analysis demonstrates that Scotland's universities not only generate knowledge, but crucial wealth and employment.
"For every pound of Scottish Funding Council grant we receive, we generate and return £12 to economy. Or to turn it on its head, for every pound that St Andrews loses, Scotland will lose £12.
"In the three years since the last economic impact assessment, our annual gross contribution to the Scottish economy has grown by over £170m a year to £484m, partly due to an increasing spend by the University with local suppliers, our impact on tourism, spending by our staff, the premium of supplying well educated graduates to the economy and an improved ability to measure impact.
"If the UK economy is to require new stimuli to move out of recession, there is a strong argument that universities are one of the most reliable options for increased public investment, given their proven multiplier effect, the freedom to operate in international markets and the level of wealth and sustainable employment they are capable of generating for the country."
St Andrews received approximately £40m last year in public funding from the Scottish Funding Council – but returned £484m to the Scottish economy.
Your report: If you have information on this or any other story, please let us know. You can send information, pictures to web@stv.tv or call us on 01382 591016.
Feedback: We want your feedback on our site. If you've got questions, spotted an inaccuracy or just want to share some ideas about our news service, please email us on web@stv.tv.