Stepfather in court for smacking boy's bottom to discipline him
The 34-year-old man was admonished at Perth Sheriff Court.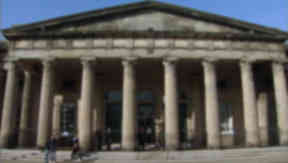 A stepfather who ended up in court after smacking a five-year-old boy's bottom to discipline him has been admonished.
The 34-year-old man was arrested and charged after social workers stepped in when the boy told his teacher he had been hit on the backside at home.
Perth Sheriff Court was told that the man had disciplined the misbehaving boy in front of his mother and she had not been concerned about the incident.
But the man, who cannot be named for legal reasons, came to the attention of the authorities when teachers called in social workers and then the police.
He admitted assaulting his stepson by pulling down his trousers and repeatedly striking his naked bottom to his injury in Scone, Perthshire, on August 27.
Fiscal depute Robbie Brown told Perth Sheriff Court: "The accused is the [step] father of the boy named in the charge.
"This happened at about 4pm when there was an apparent argument between the accused and the child's mother over the conduct of the young boy.
"As a response to this he then took hold of the child, pulled down his trousers and smacked him at least twice. The child ran off. The matter was not reported by the child's mother.
"But then it emerged from something the child said at school. Through the usual procedures the matter was reported to the police and then investigated."
Solicitor Paul Ralph, defending, told the court: "The child is his stepson. There's been things the child has done which have given concern to both parents, but it is my client's reaction that brings him to court.
"This is his first offence. There does appear to have been a build-up over a period which perhaps makes what happened understandable, but not excusable.
"He has not only been compelled by his behaviour to appear in court, but he has undertaken voluntary work to try and hone his parenting skills.
"It is quite a difficult case to pitch to the court, because the court will be concerned about what happens next. Full reintegration into the family is the aim of all the parties."
The court was told yesterday that the parties were all in daily contact and that the incident could be treated in "isolation" and as a one-off.
Sheriff Michael Fletcher said: "This case was continued for you to be of good behaviour and to make sure this was an incident which was isolated.
"You have been of good behaviour and it is also correct to say that you are a first offender. Taking all of these factors into account, I am prepared to admonish you."