Intoxicated woman dropped 16-month-old toddler at house party
Lorna Ogilvie picked up the baby and confronted police.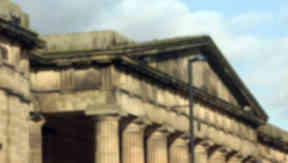 A baby who was dropped by a drunk woman at a party as she hurled abuse at the police narrowly avoided landing on his head on the floor.
Lorna Ogilvie picked up the baby and confronted police with a tirade of abuse before losing her grip and dropping the 16-month-old child.
Perth Sheriff Court was told on Wednesday that the child was extremely lucky to strike a pram on his way down which prevented him from being seriously injured.
Fiscal depute Catherine Fraser said: "The accused had been at her sister's home along with friends and all bar one of them had been consuming alcohol.
"The accused became extremely intoxicated and loud and began to argue with other people, including her sister. The police were contacted.
"She was being obnoxious and arguing with police officers. She then went into a bedroom and came out holding a child. She refused to put him down and continued arguing with police.
"She was belligerent and due to her intoxicated state she dropped the child, who landed on the hood of a pram. Had the pram not cushioned the fall, he would have landed on his head on the floor."
Solicitor Cliff Culley, defending, told the court that his client had an alcohol problem and was "taking tentative steps towards dealing with it."
Ogilvie, 32, Fintryside, Dundee, admitted causing the child injury or unnecessary suffering by dropping him while she was under the influence of alcohol in Perth on December 9.
She was ordered to undergo alcohol treatment as part of an 18-month supervision order.