Gypsy Travellers describe 'harassment and racism' they face in Scotland
Members of the community are meeting MSPs on Thursday to describe what their life is like in Scotland.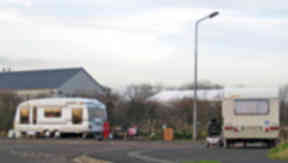 Gypsy Travellers will describe their experience of living in Scotland to MSPs investigating the problems they face.
Thirteen people were invited to take part in the work of Holyrood's Equal Opportunities Committee, which meets at the Scottish Parliament on Thursday.
Some of the participants set out their concerns in advance, including complaints about poor site management by councils and harassment.
In one submission, Fiona Townsley, who lives on the Double Dykes site in Perth, said the local authority needs to improve.
She said: "I think the attitude of the council is very poor to travellers, especially travellers who stand up for their rights and try to improve things. The council can be very harassing."
Ms Townsley, who has lived in the area for about 30 years, said many of the problems, including clashes within the community, stem from the lack of space.
She said: "We get harassment, mostly from other travellers on the caravan site. I think it's based on not enough pitches, overcrowding on the caravan site, too many people.
"There's too many caravans in too short a space, adds up to the problems, but that's all down to poor management. If we had a better management, this wouldn't be happening. I we had a better council, there would be more sites after 30 years."
Problems are not confined to the site, she added.
Ms Townsley said: "We did get harassment. There's a public path and sometimes we get shouts of racial abuse from the public path."
MSPs on the committee held a one-off session at a Gypsy-Travellers' site in Clinterty, Aberdeen on Monday.
A Perth and Kinross Council spokesman said the authority does not discuss the circumstances of individual tenants.
A spokesman said: "However, we would say that the council enjoys an open and productive relationship with the vast majority of people who live at Double Dykes. If residents have any issues or concerns about the site, we are always happy to listen."