Gordon Brown says closing Remploy factories 'economic madness'
Mr Brown has been spearheading a campaign to keep open the two Remploy factories in Fife.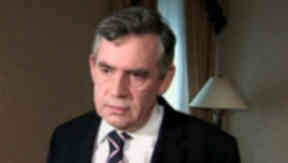 Former prime minister Gordon Brown has said it would be "economic madness" to let two factories employing disabled workers close.
Mr Brown has been spearheading a campaign to keep open the two Remploy factories in Fife with fellow Labour MP Lindsay Roy and local councillor David Ross.
The three men put forward a business plan at a meeting with Work and Pensions Secretary Iain Duncan Smith and Scottish enterprise minister Fergus Ewing on Wednesday.
They presented two potential buyers and suggested how the Cowdenbeath and Leven factories' order books could be boosted.
Without the government help needed, Mr Brown said the manufacturing work would be lost to Asia.
A statement from the two MPs and councillor said: "We said we did not want Leven and Cowdenbeath to join the rising list of 54 Remploy factories where privatisation has led to either liquidation or the decimation of the workforce. We set out how we had on our own initiative approached and talked to two companies ready to consider a bid for the sites."
They said: "We demonstrated how the factories' order books of 30,000 marine lifejackets can be increased to nearly 40,000 but showed that to move to break even this year and next year the annual cost per employee is £17,500 - far higher than the total subsidy of, on average, £3750 per year for the first three years of privatisation.
"We repeated that it would be economic madness to allow two factories with full order books, a world-renowned product and the possibility of a 25% rise in sales to go under - and that the jobs could be lost to Asia."
Mr Duncan Smith agreed to look at the business plan and offer a response at a later date, they said.
Following the meeting, Mr Ewing said the UK Government's commitment to look again at the factories' future was a positive step.
He said: "The timing and manner in which funding has been withdrawn from these factory sites is unhelpful in securing a viable future for the remaining Remploy businesses in Scotland. "Across the Scottish Parliament there is agreement that he timescales being imposed by DWP mitigate against a successful outcome.
"In recent weeks local authorities, trade unions and MSPs have called for a delay on the sale or closure of Remploy sites to allow alternative plans to be developed for all of the remaining Remploy businesses and I made that point again to the Secretary of State today. I look forward to today's meeting being the start of a more productive approach from the UK Government to securing the future of the Remploy workforce in Scotland."
Minister for Disabled People Esther McVey also attended the meeting.
She said: "Our priority through this process is to safeguard as many jobs for disabled people as possible, including offering a £6400 wage subsidy for every disabled worker. We are only part way through the commercial process of asking for expressions of interest to take over these factories, and I'm encouraged by the level of interest in doing so.