David O'Halloran: Mother recruits psychic to help in student search
The Stirling University student has not been seen since Friday, January 18.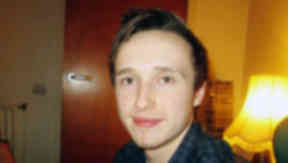 The mother of a student missing for more than a month is to visit the focus of police searches with a psychic.
David O'Halloran was last seen in the early hours of Friday, January 18, after leaving a night-out with friends in Stirling.
The maths and secondary education student at Stirling University had gone out drinking with friends after finishing work.
He left the Dusk nightclub in the city at about 1am in a taxi but got out of the vehicle at The Co-op shop at Aithery Road at Causewayhead at around 1.15am.
Mr O'Halloran, from Kilmaurs in East Ayrshire, was spotted walking along Aithery Road and ventured through a nearby field to Graham's Dairy beyond the university entrance, before workers at the farm pointed him in the right direction after he turned up soaking wet.
The taxi driver who had originally dropped the student off spotted him standing across the road from the university entrance at around 1.57am, when Mr O'Halloran's family believe he may have been displaying symptoms of hypothermia.
His wallet has been found in the field he walked through, while the last sighting of the student was at around 2.19am when CCTV footage in a shop in Henderson Street in the nearby Bridge of Allan recorded him heading towards the Keir Roundabout.
Central Scotland Police have searched the Allan Water that runs through the town and the River Forth that it runs into as part of the hunt for the missing student.
The 18-year-old's mother, Donna O'Halloran, has said she will use "any means possible" to find her son and is hoping a psychic can help locate him.
Before travelling to the search area on Thursday, Ms O'Halloran told Real Radio: "We're meeting with psychic Paula O'Brien who has a successful track record in helping other police forces in the UK in these kind of cases. Basically, we're hoping David will guide her to the area he is in the river, if he's still there at the moment.
"We're trying to find David and we're going to try any means possible at our disposal; hire boats and professionals and any equipment that is needed to find David and try to recover his body back."
At a police press conference last week, Mr O'Halloran's father Alan McInnes said he believes his son is still alive. Mr McInnes, who is separated from Ms O'Halloran, fought back tears as he appealed for further information on the missing student.
The police stated on Wednesday that their intention is to launch a larger boat on the River Forth and search from the South Queensferry area upstream to the bridge at the A91 when conditions permit.