Farm owned by millionaire businessman fined after leg accident
Blackford Farms was fined £35,000 at Perth Sheriff Court.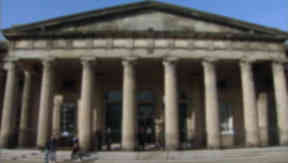 A farm owned by a millionaire businessman has been fined after a female employee as injured in an accident.
Wanda Lustig said she had been "laughed at" when she warned about the unsafe working conditions on Maher Mahdi Al Tajir's Blackford Farms in Perthshire.
The 34-year-old farm worker fell into an unguarded chain machine in a ramshackle grain byre and had a significant chunk of her lower leg ripped off before she could escape. She managed to drag herself out of the building and make a call for help.
She was found with injuries which a colleague said "looked like a shark bite."
Sheriff Lindsay Foulis fined Blackford Farms £35,000 on Thursday after it admitted being responsible for leaving Ms Lustig scarred for life.
The company admitted a series of health and safety breaches covering a two year period from October 2009 to October 18 2011, when she was injured in a grain shed.
Sheriff Foulis said: "It's pretty clear the circumstances in the grain shed were inherently dangerous. Persons had expressed concerns. The circumstances were ongoing for two years. It is a serious breach."
Perth Sheriff Court was told that Al Tajir, who also owns Highland Spring, paid Ms Lustig off after the accident because she was no longer fit to work on the farm.
The company's solicitor, Diane Turner, said Al Tajir and his fellow director Mohamed Sadiq Al Tajir, were paying an insurance group £1000 pounds per month to carry out risk assessments on the farm.
But the court was told that the only health and safety checks carried out were on the offices at the farm while none at all were completed around the dangerous heavy machinery areas of the working farm.
Wanda Lustig, 34, had been working on the 20,000 acre estate for around six years and lived in a tied cottage at the time of the accident on October 18, 2011.
Senior fiscal depute David Glancy told Perth Sheriff Court that the farm had not carried out proper health and safety risk assessments and several experienced staff had expressed concern about working practices.
Mr Glancy said: "She stated she heard the chain making a strange sound and decided to investigate. Due to the narrow width of the corridor and the space available for her to place her feet she required to stand on the metal plates covering the moving chains.
"She slipped and her left foot was caught up in the moving chainwork which caused her to fall over and be dragged by it. She cannot say how, but was successful in releasing her foot.
"She was distressed and had a wound in her leg that 'looked like a shark bite'.
"Unable to walk, she dragged herself from the building and telephoned her boyfriend. She realised she was badly injured. Ms Lustig was taken to Falkirk Royal Infirmary.
"The consultant surgeon describes her injuries having occurred as a result of a 'horrendous industrial accident'.
"She continues to experience considerable pain when required to walk and also has difficulty walking without support. She is not in employment at present.
"She was advised by Blackford that they had no work to offer her in her current physical condition and she has been paid off by them. She has been unable to secure employment and feels she is unable to work.
"Ms Lustig herself concludes her statement stating that she reported things that she thought were dangerous but 'people just found it funny and were not taking me seriously'."
Sheriff Lindsay Foulis said: "The circumstances could easily have been avoided. The ultimate beneficiary of any profit will be the Al Tajir family. With all due respect to them they will not be struggling for the odd pound or two, without being flippant."
The company was given three months to pay the fine.