Dundee boss John Brown: 'An official has cost this football club a replay'
Dundee United manager Jackie McNamara did not feel the incident was crucial.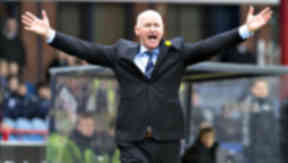 Dundee manager John Brown claimed linesman Andrew McWilliam cost his side a Scottish Cup replay in Dundee United's 2-1 win at Dens Park.
Brown was left raging after McWilliam failed to flag for a throw-in before Dundee United's first goal.
The Dark Blues appealed that Gary Mackay-Steven had run the ball out of play on the right wing but McWilliam did not agree, allowing the winger to cut inside Brian Easton and Ryan Conroy before being brought down by the latter.
Barry Douglas swung in the free-kick and McLean rose above everyone else to beat Rab Douglas head in the opener.
But Brown felt McWilliam and referee Iain Brines had made the crucial intervention.
Brown said: "It was an even game, both teams went for it.
"I'm pretty bitter about a decision that never went our way, a clear throw-in, that ultimately results in a free-kick that shouldn't have happened.
"I don't really need to talk about how you defend it because that shouldn't come into play if they do their jobs right.
"An official has cost this football club a replay and a chance to get to a semi-final.
"That decision in the first half basically took it out of our hands."
Brown said he spoke to the SFA observer, former referee Bob Valentine, after the game.
He said: "The referee supervisor came out and said the ball was out. It's human error but it's a sore one to take.
"I'm 10 yards away and he's right there. How he can't see that...
"I don't want to be throwing it all on the official but that one decision...you need them to be on their game, they don't do it right and it has cost us the game.
"Take that away and it was an even game. But I wish United all the best."
The Dens Park side equalised through Jim McAlister and were on top before Mackay-Steven scored what proved to be the winner in the 35th minute.
Dundee United manager Jackie McNamara did not feel the incident was crucial but he admitted it had been a close game.
McNamara said: "I saw them appealing but I didn't actually see it was out. I think things went for both teams, some decisions."
He added: "It was quite an even match, we can play a lot better but Dundee made it hard for us.
"It was a typical cup tie and derby, not a lot of quality or passing. But credit to our lads, and Dundee as well, they put a lot of pressure on us and put extra men up front. I thought we coped with it really well.
"They were on top and we scored a fantastic goal, a great run from Stuart Armstrong and a great pass to Gary Mackay-Steven.
"Dundee had been on top and it was frustrating because they were getting the second balls. But we battled away and got there in the end."