Woman murdered friend after he threw drink over her at Dundee flat
Elizabeth Reid was found guilty of murdering John Whyte at a flat in Dundee.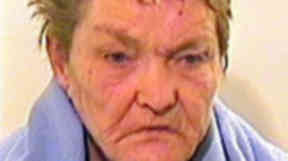 A woman murdered a friend she regularly drank with after he threw a drink over her.
Elizabeth Reid, 58, stabbed John Whyte, 50, in the neck at a flat in Dundee's Provost Road in May 2012.
She had denied murdering Mr Whyte with a knife, or similar instrument, but was found guilty by majority at the end of the trial before Lady Scott at the High Court in Aberdeen.
Commenting on the outcome of the case, detective inspector Mike Pirie, highlighted the lethal combination of knives and alcohol.
He said: "This was horrific incident that gives truth to the fact that perpetrators and victims often know one another and that such incidents more often take place within home addresses. Indeed, stranger crime is rare. In this case Reid and Mr Whyte knew one another well and frequently drank in one another's company.
"Unfortunately, their association with alcohol also meant that they regularly argued with one another, on this occasion with fatal consequences.
"Reid admitted her actions from the outset, notably to those first emergency responders who tried in vain to save Mr Whyte's life. However, a main artery in his neck had been irreparably damaged and he didn't stand a chance.
"This was not an impulsive attack and the jury clearly agreed. Mr Whyte had thrown a cup of alcohol over Reid. She walked to the kitchen, retrieved a knife and stabbed her unwitting victim, before returning the knife to the kitchen cupboard. She must now take full responsibility for her actions.
"A knife, even a kitchen knife, in the wrong hands is a lethal weapon. Throw alcohol into the mix and it is a disastrous cocktail.
"No one can be in any doubt as to the legality of using a knife to threaten or harm another person. But people also need to examine their relationship with alcohol as too many people drink to excess and find themselves involved in criminal and violent behaviour.
"Drunkenness is not an excuse to commit crime. If you are responsible for a crime of violence, be in no doubt that we will hold you to account, irrespective of whether you were sober or drunk at the time.
"Our thoughts are with Mr Whyte's family who have suffered the trauma of losing a loved one."
Sentence on Reid has been deferred until April 26 for reports.