Father faces jail for river plunge on anniversary of son's death
Perth Sheriff Court heard Thomas McLean was depressed as it was the anniversary of his son's death.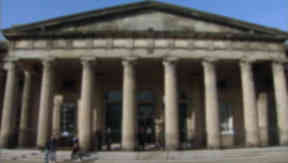 A father who jumped from a bridge into the River Tay on the anniversary of his son's death has been warned it is "virtually inevitable" that he will be jailed for endangering the emergency workers who saved him.
Thomas McLean, 52, was swept 400 yards downstream after leaping from Perth railway bridge while police were trying to talk him down to safety.
He was eventually pulled to safety after a massive rescue operation estimated to have cost the emergency services "tens of thousands of pounds."
Sheriff Michael Fletcher told McLean: "They were put in serious danger. Courts have to do what they can to discourage people from climbing on bridges and doing this. It is not an uncommon thing in Perth, unfortunately. It seems to me that a custodial sentence is the only way to deal with it.
"It must be discouraged. I treat this as a very serious matter indeed. The Crown haven't been able to tell me what the cost of the operation was, but I suspect it was tens of thousands of pounds to cover the way people were deployed.
"You put these people at serious risk. They had to do a job they should not have had to do. I consider a custodial sentence virtually inevitable."
Sheriff Fletcher was told McLean was depressed because the date was the second anniversary of his son's death and he deferred sentence on him for six months to be of good behaviour.
McLean, Balgavies Avenue, Dundee, admitted conducting himself in a disorderly manner and breaching the peace by putting emergency workers in danger as they tried to rescue him on November 18.
Fiscal depute Robbie Brown told Perth Sheriff Court: "The accused was on the wrong side of the barrier. Officers found the accused hanging onto the barrier with his feet on the ledge. Officers tried to engage him. At some point the accused jumped into the water.
"A number of officers had to attend. He was eventually seen clinging to a branch 400 yards downstream. It was extremely dangerous to attend. He had to be got out by officers from Tayside Fire and Rescue at a very dangerous part of the river to get to."
Solicitor David Holmes, defending, said: "Mr McLean has faced the reality that the court will be considering a custodial sentence here and that has caused him great concern."