Husband attacked wife of 22 years for overcooking his steak
Andrew Pryde told Alison Pryde the steak was 'like a boot'.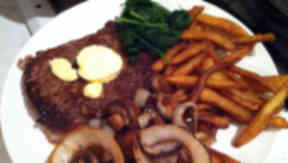 A furious husband attacked his wife of 22 years of marriage in a row over an overcooked steak.
Andrew Pryde flew into a rage and assaulted Alison Pryde after telling her the steak she had cooked him was tough "like a f****** boot".
The recycling plant worker refused to calm down even after his wife offered to cut the meat up for him so it would be easier for him to eat.
Mrs Pryde and her teenage daughters were then thrown out of the house by Pryde and had to sit on a park bench for an hour while police were called.
Pryde, 45, of North Street, Milnathort, admitted assaulting Alison Pryde by slapping her on the face and knocking off her glasses at their home on October 14 last year.
He also admitted causing fear and alarm by behaving in a threatening and abusive manner, making sexually offensive remarks to his wife and insisting she and their teenage daughters leave the house.
Fiscal depute Rebecca Kynaston told Perth Sheriff Court that the couple had been married for 22 years but had been arguing for months because of their financial problems.
She said Pryde had gone out drinking the night before the attack and had told his wife he was not immediately coming home when she telephoned him at 1.30am.
It was the following afternoon at 1.45pm when Pryde eventually staggered home after a day long binge on cider and whisky. He immediately fell asleep on the sofa.
"At 3.45pm he got up and went to speak to his wife in the kitchen. He began telling his wife he had had nothing to eat," Mrs Kynaston told the court.
"She aid she would make him something. He became aggressive and began shouting at her. His wife took his dinner through to the living room. The accused shouted at her 'this is like a f****** boot.
'"The accused's wife offered to cut up his steak so he could eat it more easily. The accused then shouted 'no' aggressively at her and slapped her on the side of the face. He knocked her glasses off.
"Mrs Kynaston said Mrs Pryde and her daughters left the house and went to sit on a park bench where they called the police."
The accused was detained and admitted the offences.
Solicitor Steve Lafferty, defending, said: "He is ashamed of his actions and those actions do not reflect the state of their marriage over the previous 22 years. He has been reconciled with his wife and they are now living together harmoniously. He has seen a doctor because he has recognised he has a difficulty with alcohol. He is ashamed of his behaviour."
Sheriff Michael Fletcher fined Pryde £350.